Prof. Jeff McCall '76 Analyzes Talk Radio's Impact on Voters for California Newspaper
February 13, 2008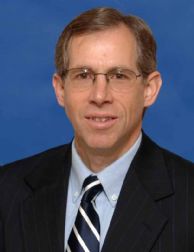 February 13, 2008, Greencastle, Ind. - "A recent study showed that well over 80 percent of talk radio listeners say that their voting choices are not influenced by talk radio," Jeffrey McCall, professor of communication at DePauw University, tells California's North County Times. "I believe that most talk radio listeners are independent thinkers who don't just want to get in line with the thinking of even their favorite talk hosts," the professor adds.
Dr. McCall is quoted in a column by Randy Dotinga, who writes, "You may have heard that Rush Limbaugh -- along with high-profile talkers like Laura Ingraham and Sean Hannity -- spent days railing against the presidential candidacy of John McCain. They supported Mitt Romney, whose campaign had all the staying power of Limbaugh's waistband ... The supposed power of conservative talk-show hosts may simply have been overrated, perhaps a product of media assumptions that conservative listeners simply do what they're told."
The newspaper serves the San Diego area. Access the complete text at the Times' Web site.
Jeff McCall, a 1976 graduate of DePauw, is author of the recent book, Viewer Discretion Advised: Taking Control of Mass Media Influences. He contributed an op-ed column to Saturday's Indianapolis Star on indecency in the media and examined how news organizations are covering the presidential campaign in another recent column.
Professor McCall also appeared on FOX News Channel's O'Reilly Factor on January 31. A summary of the segment -- including video and audio clips -- can be found in this previous story.
Source: North County (Cal.) Times
Back