Tiger Coach Ted Katula Wins Golf Tournament
July 18, 1962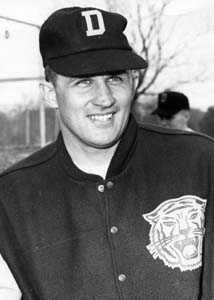 July 18, 1962, Greencastle, Ind. - Ted Katula, head baseball coach and assistant football coach at DePauw University, fired a two-under-par 70 yesterday to win the 36-hole Monticello, Indiana Open by one shot with a total score of 142. The 30-year-old Ohio State University graduate, playing in his second professional tournament, won $500 for his first-place finish. He carded four birdies and two bogeys in route to his win.
Katula put himself even with yesterday's leader, John Redman of Florida, on hole #12 by sinking a birdie putt. The two remained tied until the 16th hole, when the DePauw coach sank a three-foot putt for a bird, taking a one stroke advantage.
On the 18th, Katula missed a two-footer for another birdie, then had to watch as Redman missed a putt from five feet out that would have sent the match into
extra play.
Ted Katula joined the DePauw staff in 1959 after coaching at Oberlin College for one year. He was an end on the 1952 and 1956 Ohio State football teams and captained the 1957 and '58 Buckeye golf teams. His football career was shortened by a serious knee injury he sustained two weeks before the opening of the 1956 season.
Back