NY Times Magazine Essay Cites Writings of James B. Stewart '73
February 17, 2008
February 16, 2008, Greencastle, Ind. - What draws people to seek out graphically horrific images on the Internet -- from photos of medical procedures to scenes of torture and prisoner abuse from the Abu Ghraib prison? Virginia Heffernan examines that question in today's New York Times Magazine in an essay which offers the insights of a Pulitzer Prize-winning DePauw University graduate.
Heffernan's essay begins by describing how, after a friend received a medical diagnosis, she immediately began Googling the name of the malady and quickly encountered vivid and unsettling images of cysts. She notes that visitors to popular Web sites intentionally seek out scenes of real-life violence and other horrors.
"And let's not be naïve: the motives of journalists, human rights workers, documentarians and doctors who draw attention to nauseating images are not always pure," Heffernan writes. "In his terrific book about nonfiction writing called Follow the Story, James B. Stewart argues that 'writers cannot count on anyone to read their work out of a sense of obligation, moral duty or abstract dedication to being informed. ' Instead, he says, the best stories in journalism engage an amoral quality in the reader: curiosity. Stories that are strange work best; we want to see what's weird, what's unexpected, what we're not supposed to see."
Access the complete piece, "Cabinets of Wonder," at the Times' Web site.
A member of DePauw's Board of Trustees and former chair of the body,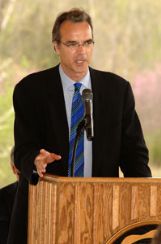 James B. Stewart received a Pulitzer Prize for Wall Street Journal articles on the 1987 stock market crash and the insider-trading scandal. Now editor-at-large of SmartMoney magazine, the 1973 DePauw graduate's other books include DisneyWar: The Battle for the Magic Kingdom; as well as Den of Thieves; Blind Eye; Blood Sport and Heart of a Soldier: A Story of Love, Heroism, and September 11th. The San Francisco Examiner calls Stewart, who served as editor of The DePauw while a student in Greencastle, "the journalist every journalist would like to be." In 2006, he won the Loeb Award, the highest honor in business journalism.
Stewart received DePauw's Young Alumni Award in 1988, an Alumni Citation in 1988, and an honorary Doctor of Journalism degree in 1989. Read more in this previous story.
Back