Newspaper Features Newport News City Manager Randy Hildebrandt '70
February 18, 2008

February 18, 2008, Greencastle, Ind. - "The times of double-digit assessments have ended, and taxpayers will be happy about that," Randy W. Hildebrandt, city manager of Newport News, Virginia, and 1970 graduate of DePauw University, tells the Daily Press. "But the real issue is revenues. We have to look at different taxes and fees. In the longer term, tax rate adjustments have to be made to meet our funding requirements."
Hildebrandt is the subject of the newspaper's "10 Questions" feature today. Sabine Hirschauer writes, "Randy Hildebrandt took over as city manager two years ago this month and soon encountered a myriad of challenges. Chief among them: Disgruntled homeowners, who'd endured three straight years of double-digit property tax reassessments, began to ratchet up their criticism of the city for pumping millions of dollars into big-ticket projects ... while only reluctantly cutting the real estate tax rate. This year, Hildebrandt continues to navigate the city through rough budgetary waters. Against the backdrop of a housing market slump and a sputtering economy, he announced a three-month hiring freeze last week and asked department heads to cut their budgets 5 percent to keep shortfalls in check."
Hildebrandt, who has a master's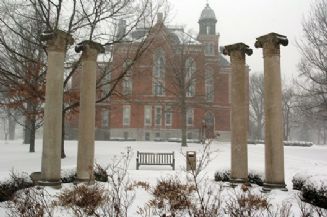 degree in public administration from the Maxwell School at Syracuse University, is asked why he decided to major in economics as an undergraduate at DePauw.
Access the complete text at the Daily Press' Web site.
Learn more about Randy Hildebrandt in this previous story.
Back