Pulitzer Prize-Winning Historian David Hackett Fischer Lectures Thursday
February 19, 2008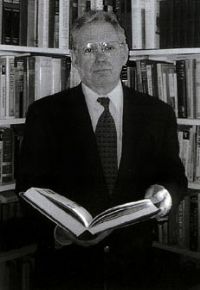 February 19, 2008, Greencastle, Ind. - David Hackett Fischer, one of America's most celebrated historians and a Pulitzer Prize-winner, will speak at DePauw University this Thursday, February 21. Dr. Fischer will present the Walker Horizon Lecture in History at 4:15 in the auditorium of the Richard E. Peeler Art Center. The event is free and open to the public.
Fischer is University Professor and Earl Warren Professor of History at Brandeis University. He is the author of such acclaimed volumes as Albion's Seed (1989); The Great Wave (1996); Paul Revere's Ride (1994); Liberty and Freedom: A Visual History of America's Founding Ideas (2005); and Washington's Crossing (2004). The latter work, a narrative of George Washington's leadership of the Continental Army during the
winter of 1776-77 during the American Revolutionary War, received the 2005 Pulitzer Prize for history.
In honoring Dr. Fischer in 2006, the American Enterprise Institute for Public Policy Research called the professor "a pioneer among historians who are combining modern methods of research and interpretation with renewed appreciation for the importance of contingency, choice, and character in the unfolding of the American drama. His bestselling books ... are more than meticulous retellings of great revolutionary events: they provide readers with a vivid sense of how the events were experienced in the immediate moment and of how they affected choices and decisions yet to come."
David Hackett Fischer has been teaching at Brandeis University since he earned his Ph.D. in 1962 from Johns Hopkins University.
Back