Brian Casey "Excited" to Become President of "An Absolute Jewel of a Liberal Arts College"
February 21, 2008
Also: Harvard Administrator Brian W. Casey Named DePauw's Nineteenth President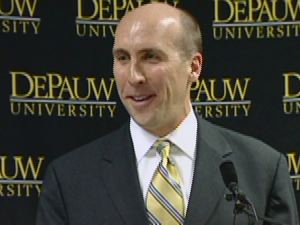 February 21, 2008, Greencastle, Ind. -

[Download Video: "DePauw's Nineteenth President" - 1814kb] "When this possibility first presented itself, I began an intensive study of DePauw," Brian W. Casey said this morning at an Indianapolis news conference after being introduced as the University's nineteenth president. "What I found was an absolute jewel of a liberal arts college, enriched by a School of Music."
Facing an audience of professional and student journalists as well as a large contingent of DePauw alumni who gathered at the headquarters of Independent Colleges of Indiana, Dr. Casey -- who comes to his new position from Harvard University, where he is associate dean for academic affairs in the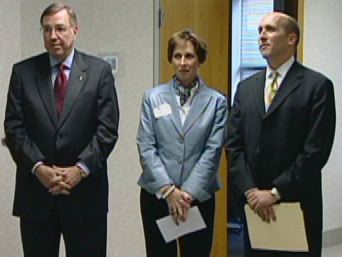 Faculty of Arts and Sciences -- talked of his "excitement" about joining the DePauw community and offered an assessment of the college he will lead beginning July 1.
"The institution is strong, it has programs of real distinction and merit, it has a distinguished faculty and has spectacular facilities," he noted. "Most importantly, however, I encountered a Board of Trustees committed to ensuring DePauw's position as one of the nation's finest liberal arts colleges." (at right, l-r: R. David Hoover, Sarah Reese Wallace and Brian Casey as the news conference began)
Casey, 44, joined the Harvard administration in 2005 and previously served as assistant provost at Brown University. He has taught at both Brown and Harvard. The captain of the swimming team as an undergraduate at the University of Notre Dame, Casey earned his law degree from Stanford and worked as a Wall Street attorney before taking his first position in the world of higher education.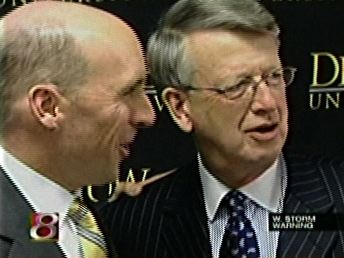 He will succeed Robert G. Bottoms, the longest-serving president in DePauw history, who has guided the University since 1986. Last April, Dr. Bottoms announced plans to step down from the presidency at the conclusion of the 2007-08 academic year and become Chancellor of the University and director of the new Janet Prindle Institute for Ethics.
Casey, who quietly visited the Greencastle campus even before his first interview, added, "I also found a student body and alumni body simply and fully in love with their college. There is a deep, emotional commitment to DePauw that makes this a special place: an institution that has entered the national conversation about American higher education."
The new president spoke how DePauw will work to continue to attract the nation's top students and faculty members who are leaders in their disciplines. Casey will endeavor to create "an academic environment in which students work vibrantly and directly with these scholars. That is the keystone, that's the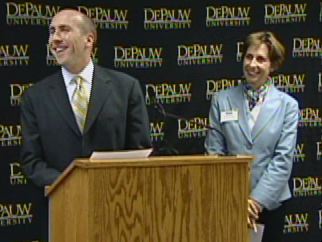 foundation of a liberal arts college," he asserted.
The University has "a moral obligation" to continue seeking and building upon diversity in the student body and faculty, Casey stated. "Most importantly, however, we must not be shy about speaking about DePauw's remarkable history and its strengths. DePauw has produced an inordinate number of CEOs, leading journalists, writers, artists and musicians, and community leaders of every stripe. The University has shown itself to be a place of creativity and community. This is the story of DePauw, and as the institution's next president I will not be shy about speaking about this in Indiana, and in the nation, and around the world."
Dr. Casey spoke of Harvard's "commitment to scholarly excellence." He noted,

[Download Video: "Scholarly Excellence" - 1311kb] "Harvard is an institution that is unapologetic about being the best in the world at whatever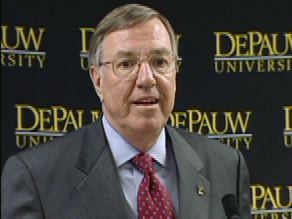 it does. I think that is a perfectly appropriate goal for DePauw to cling to."
An MP3 of Dr. Casey's complete opening statement can be accessed here:

[Download Audio: "Opening Remarks in Full" - 1502kb]. (at left: Dave Hoover at the news conference)

[Download Video: "R. David Hoover '67" - 482kb] "It's a big day for DePauw University," stated R. David Hoover '67, chair of DePauw's Board of Trustees and chairman of the board, president and chief executive officer of Ball Corporation, as he introduced the new president. Brian Casey's appointment is the culmination "of eight or nine months of work ably led by Sarah Wallace ['76], chair of our search committee," Hoover added.
The complete formal announcement was webcast live, and remains available as an archived file via this link.
Dr. Casey came to Greencastle for a welcoming reception from 4 to 6 p.m. today in the Great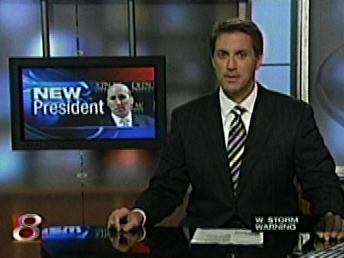 Hall of the Green Center for the Performing Arts.
"DePauw University alumni take pride in hearing their school called the Harvard of the Midwest," stated news anchor Eric Halvorson on Indianapolis CBS affiliate WISH-TV's 5 p.m. newscast this evening. "Soon the Harvard influence might really be felt," he added as he introduced a segment by education reporter Leslie Olsen. Two clips of her report -- which includes comments from Dr. Casey as well as students and faculty members -- can be accessed here:

[Download Video: "Part 1 of WISH Report" - 3422kb]

[Download Video: "More of the TV Story" - 1901kb]. Read more at the station's Web site.
In this morning's Indianapolis Star, Andy Gammill wrote, "DePauw University has selected a former standout Notre Dame swimmer and current Harvard administrator as its 19th president, the university will announce today." The article adds, "He attended Notre Dame as an undergraduate, earning the highest grade in the economics department and serving as captain of the swim team.After a brief law career, he became a university administrator and decided for sure that the college life was for him."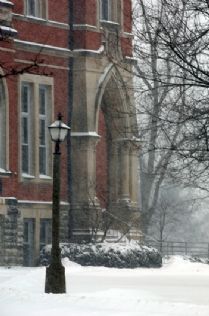 "It's the one place people gather to think about ideas and gather together and play together," Dr. Casey is quoted in the paper. "I really think it's where we're our best."
E. Gordon Gee, president of Ohio State University, "was Casey's boss at Brown" and calls the new DePauw president a "rising star" in the world of higher education. "He is bright and articulate, with a great sense of people and understanding of universities," Gee tells the Star. "I'm confident that the DePauw faculty and students alike will find great joy in working with him."
Read the complete story at IndyStar.com.
Brian Casey's appointment has received attention in a number of other media outlets today, including the Chronicle of Higher Education, Fort Wayne Journal Gazette, Yahoo! Finance and the Indianapolis Business Journal. Three of the four Indianapolis television stations with news programs covered this morning's announcement.
Read more about DePauw's new president in this story, which was posted early this morning.
Back