DePauw to Host This Weekend's Japan Olympiad of Indiana
February 26, 2008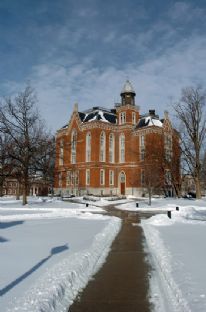 February 26, 2008, Greencastle, Ind. - DePauw University will host the 2008 Japan Olympiad of Indiana (JOI), this Saturday, March 1. JOI is an academic competition which tests the achievements of high school students who are studying the Japanese language. Sixteen high schools throughout Indiana will participate in the competition, which will bring more than 150 high school students to the DePauw campus.
During the competition, teams of students will be presented with questions which are designed to assess their knowledge of traditional and modern Japan, including language, culture and society. Teams will compete at three different levels, depending upon how long they have been studying Japanese.
"The teams have been studying hard under the guidance of their teachers," reports Hiroko Chiba, associate professor of modern languages at DePauw,
who is organizing the event with some high school teachers. "My DePauw colleagues will serve as judges with four other professors from IU, Ball State and Earlham. Also, DePauw students will help us as time and scorekeepers. This will provide a wonderful opportunity to underscore the University's commitments to international education and diversity, as well as allow young scholars a chance to see our campus and its wonderful facilities," adds Dr. Chiba.
Back