DePauw Theatre to Premiere Musical by Award-Winning Alumni; Auditions March 18 & 19
March 7, 2008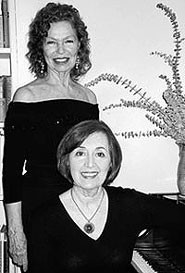 March 7, 2008, Greencastle, Ind. - DePauw Theatre announces auditions for the premiere of Einstein and the Roosevelts, a new musical written by 1957 DePauw University graduates Nancy Ford and Gretchen Cryer, award-winning Broadway collaborators. Principal auditions are Tuesday and Wednesday, March 18 and 19, beginning at 5:30 p.m. Members of both the DePauw and Greencastle communities are invited to audition.
The production will run October 10-12 and will coincide with DePauw's annual alumni event, Old Gold Weekend. Preview performances will be held during DePauw's Family Weekend, September 26-27, and October 3-4. It is made possible through the generous support of the Gilbert Lance Fund.
Einstein and the Roosevelts is a quirky musical presenting an alternative history of one of America's most influential couples. The story takes place at a birthday party thrown for Eleanor in the cosmos after they are all dead. Albert Einstein has been invited to play the violin at the party and is able to summon up

moments from the past by playing certain musical phrases. As the past floats through the party, secrets and passions that had remained buried during Franklin and Eleanor's lifetimes are revealed. The production promises to both educate and entertain by combining history and fantasy to illuminate the characters' past decisions surrounding love, marriage and politics during wartime.
The Cryer and Ford lyricist/composer team is probably best known for I'm Getting My Act Together and Taking It On the Road, which premiered in 1978 and ran for three years. The hit musical was subsequently produced around the world and recorded in five languages. Their latest success is the musical adaptation of Anne of Green Gables, which played in New York in 2007, and is currently on tour to schools across the country.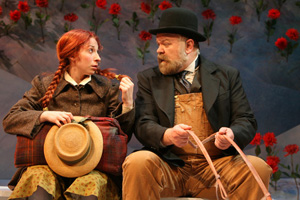 Two musicals written for The American Girl Company are currently running in New York, Chicago, and Los Angeles. Other successful collaborations include Now Is the Time for All Good Men; the critically acclaimed, award-winning off-Broadway show The Last Sweet Days of Isaac; and the Broadway production Shelter. Between the two of them Cryer and Ford have garnered numerous awards including a Grammy nomination, an Obie, a Drama Desk Award, an Outer Critics' Circle Award, two Emmys and four honorary doctorates.
The collaborators were featured in an April 2007 New York Times story.
The production of Einstein and the Roosevelts will be directed by associate professor of communication and theatre Andrew Hayes. "I relish the opportunity to work with newer material," he says. "The creators have been gracious enough to share their vision for the work with me and they are committed to helping us with the production. It is an incredible opportunity for me, our students, and our community."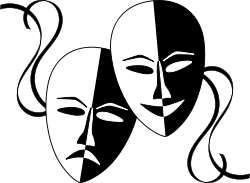 Professor Hayes has experience with musicals and historical subject matter. The most recent musical he directed, 2006's Quilters, combined contemporary music with stories of American pioneers women from the late nineteenth and early twentieth centuries.
Orchestrations for the production will be created by Lindsey Adams, a 2007 DePauw graduate who majored in vocal performance who now resides in New York City. Adams served as musical director of DePauw Theatre's 2007 production of Sweeney Todd.
Those interested in auditioning Interested may contact Andrew Hayes or visit the DePauw Theatre Web site.
Back