Four Receive University Professor Awards for 2008-2012
February 25, 2008
February 25, 2008, Greencastle, Ind. - Four members of the DePauw faculty are being honored for their long records of excellence in teaching, service to the University and broader communities, and accomplishments in their fields. The recipients of University Professor Awards for 2008-2012 are: Istvan Csicsery-Ronay Jr., professor of English; Joseph Heithaus, associate professor of English; Cleveland Johnson, professor of music; and Glen David Kuecker, associate professor of history.
Beginning with the 1998-99 academic year, DePauw has recognized faculty members with University Professor and Distinguished Professor Awards. University Professor Awards recognize sustained excellence in teaching, service and
professional accomplishments. The Distinguished Professor Awards are given for sustained excellence in teaching and service; these may be awarded only once in a career. None of the nominees this year submitted a dossier for review.
In the ten years since the awards were established, the accomplishments of fifty-five tenured faculty members have been recognized.
DePauw faculty members were invited to nominate colleagues for these awards. A committee (composed of Neal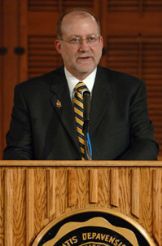 B. Abraham, vice president for academic affairs and dean of the faculty at DePauw, and past University Professorship recipients David Berque, David Newman, and Cindy O'Dell) reviewed dossiers prepared by the nominees as well as confidential letters submitted on behalf of those up for the awards. The panel made recommendations to DePauw President Robert G. Bottoms and he has endorsed them.
"Together, these four new University Professors add to the standing and stature of this most distinguished of the University's recognitions," says Dr. Abraham (pictured at left). "For more than 170 years, the foundation of this institution has been a faculty that is committed to teaching, scholarship and service. I join my colleagues in commending these exemplary individuals."
Learn more about this year's honorees by clicking here.
UNIVERSITY PROFESSORS
1999-2003 : Nancy Davis, Underwood Dudley, Wayne Glausser
2000-2004 : Arthur Evans, Carl Huffman, Robert Kingsley
2001-2005 : David Berque, David Newman, Paul Watt
2002-2006 : Thomas Chiarella, Mac Dixon-Fyle, Wade Hazel
2003-2007 : Nachimuthu Manickam, Ellen Maycock, Barbara Steinson
2004-2008 : Thomas Hall, Bruce Stinebrickner, Valarie Ziegler
2005-2009 : Yung-chen Chiang, Mary Kertzman, Mitchell Merback
2006-2010: Terri Bonebright, Vanessa Dickerson, Masha Belyavski-Frank
2007-2011: Meryl Altman, Cindy O'Dell, Daniel Shannon
2008-2012: Istvan Csicsery-Ronay, Jr., Joseph Heithaus, Glen Kuecker, Cleveland Johnson
DISTINGUISHED PROFESSORS
1999-2001 : Cynthia Cornell, James Rambo, Andrea Sununu
2000-2002 : Gary Lemon, Charles Mays, Ralph Raymond
2001-2003 : Meryl Altman, Françoise Coulont-Henderson, Craig Paré
2002-2004 : Victor DeCarlo, Marcia McKelligan, Gloria Townsend
2003-2005 : Matthew Balensuela, Carla Edwards, John Schlotterbeck
2004-2006 : Page Cotton, Vergene Miller, Judith Raybern
2005-2007 : Robert Hershberger, Daniel Shannon, Jamie Stockton
2006-2008: Mary P. (English) Dixon, Caroline B. Smith, Barbara Whitehead
2007-2009: Bridget Gourley, Susan Hahn
Back