Doors Will Open at 5 for Monday's Tony Blair Lecture; E-Mail a Question
February 27, 2008
Also: Original Announcement of Tony Blair's Ubben Lecture
Also: E-Mail a Question for Tony Blair
February 27, 2008, Greencastle, Ind. - Security measures which are being put in place for Tony Blair's Monday visit to DePauw University will require that doors open at 5 p.m. and that all attendees pass through metal detectors. Additionally, those who wish to submit a question for the former prime minister of Great Britain and Northern Ireland are being invited to e-mail queries now.
Blair's address, "Challenges and Opportunities Facing 21st Century Citizens of the World," is presented by the Timothy and Sharon Ubben Lecture Series and will begin at 7:30 p.m. in the Lilly Center's Neal Fieldhouse (702 S. College Avenue). The event is free and open to all on a first-come, first-served basis. Doors will close at 7 p.m. or earlier if the venue is full before that time. There will be no pass-outs.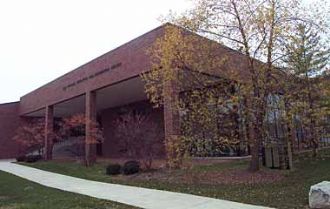 "This will perhaps be the largest event DePauw has ever hosted, given that Mr. Blair has been out of office for less than a year and continues to be a prominent world newsmaker in his current role as Quartet Representative on the Middle East," says Ken Owen '82, executive director of media relations at DePauw, who coordinates the Ubben Lecture Series. "We want to be certain that all members of the DePauw community, as well as the many visitors who have made it clear they plan to travel to Greencastle Monday, are aware of the provisions that have been put in place."
There will be two separate entrances for attendees, both of which will require individuals to go through metal detectors to gain admission to the building:
DePauw Students, Faculty and Staff

- will enter from the east side of the Lilly Center and must present a valid DePauw identification card to gain admittance. Only the person holding the ID will gain admittance; others must use the public entrance. This entrance will open at 5 p.m. and close at 6:30 p.m.

Public

- will enter from the north side of the Lilly Center. This entrance will open at 5 p.m. and close at 7 p.m.
"We are very aware that these stipulations are unusual for a campus event, but this is, indeed, an unusual occasion," says Angela Nally, director of public safety at DePauw. "Working with external agencies, we're ensuring that we get everyone into and out of the building in a timely manner and, most importantly, take the necessary security precautions for Mr. Blair and the 5,000 people we expect to be on hand for his remarks."
She adds, "I would strongly urge people to assume that the venue will be filled by 7, if not before, and plan accordingly." (below right: the crowd that witnessed Mikhail Gorbachev's October 2005 Ubben Lecture in Neal Fieldhouse)
A closed-circuit videocast of the event cannot be produced, thus the only way to witness the speech is to procure a seat in Neal Fieldhouse.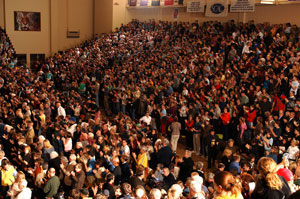 At Monday's event, the following will be prohibited inside the Lilly Center:
Bags or backpacks
Cameras
Cell phones
Signs
Key chains with mace or pepper spray attachments
Rain is in the forecast for Monday. Please note that umbrellas will be permitted.
As stated previously, all guests must pass through metal detectors to gain entry to the venue. It is advised that attendees carry as little with them as possible; objects that are deemed problematic by security officials will preclude an individual from entering the Lilly Center.
As was the case for the October 2005 visit of Mikhail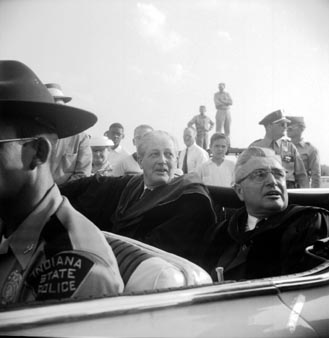 Gorbachev, student journalists from each of DePauw's three media outlets (The DePauw, WGRE radio and D3TV) will question Tony Blair at the conclusion of his remarks. You are invited to submit questions for them to present to Mr. Blair at communityconversations@depauw.edu.
Blair becomes the fifth former prime minister of Britain to speak at DePauw. Harold Macmillan, whose grandfather was a graduate of Indiana Asbury, provided the 1958 commencement address as the sitting prime minister. Harold Wilson presented a 1981 talk. The Ubben Lecture Series brought Margaret Thatcher to campus in 1992 and John Major in 2001. (at left: Prime Minister Macmillan and DePauw President Russell J. Humbert riding through Greencastle in a convertible)
Learn more about Tony Blair's appearance in this previous story.
Created by a gift by 1958 DePauw graduates Tim and Sharon Ubben, the Ubben Lecture Series has brought distinguished individuals to the Greencastle campus since 1986. To view a complete list of Ubben Lecturers, which includes links to video clips and news stories, click here.
Back