Pittsburgh Post-Gazette Praises New Book by "Brave" Cathy Day '91
February 29, 2008
February 29, 2008, Greencastle, Ind. - Cathy Day's Comeback Season: How I Learned to Play the Game of Love is "a refreshingly strange amalgam of sports saga and coming-of-middle-age memoir about a smart, accomplished woman who suddenly realizes in her late 30s that she has somehow ended up alone," writes Samantha Bennett in the Pittsburgh Post-Gazette. Day, assistant professor of English at the University of Pittsburgh, is a 1991 graduate of DePauw University.
In her new book, published last month, Day "tells the heartwarming story of how she got back in the game of love -- thanks to her favorite football team, the Indianapolis Colts," according to a synopsis by the book's publisher, Simon & Schuster's Free Press.
"Day's candor is breathtaking and, considering her position at the University of Pittsburgh, quite brave," opines the Post-Gazette's Bennett. "She's open about her idealism and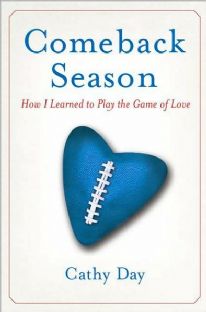 fear and possibly more revealing than she knows about her tendency to overthink and overanalyze. As a protagonist, she can make you lean back and shake your head. But as an author, she injects narrative diversions, like clever imaginary interviews with a sports reporter, to lighten the mood when it's growing heavy."
The author's first book, 2004's The Circus in Winter, was one of three finalists for the Story Prize. "This is one circus act that doesn't rely on dependable gimmicks to keep the audience amused," noted the New York Times, while the Kansas City Star's Jeffrey Ann Goudie wrote, "Cathy Day has an authoritative narrative voice, whether she is writing about old-fashioned circuses, fast-pitch softball, gypsies who stay at KOA campsites or railroad workers shut in rooms watching videotapes of passing railroad cars." The reviewer called Day's work "rich, dense and layered, a circus poster come to life, then faded into a dream portal to lost adventure."
The Pittsburgh newspaper describes Comeback Season as "like channel-surfing among Bridget Jones's Diary, Oprah and SportsCenter, but the pieces are held together by Day's compelling writing and the truth of her insights and images: 'He's playing Match.com the way I've seen men play Madden NFL '08 on Xbox --
with absolute focus and boyish glee' ... Comeback Season feels like a reality TV show with the reversals of a football game and leaves us not with a fairy tale but a locker-room speech. There's always next year."
Read the full text at the Post-Gazette's Web site.
On January 29, the day Comeback Season was released, Cathy Day appeared on Indianapolis FOX affilate WXIN-TV to talk about her latest work. A recap, including video clips, can be found in this article.
Pulitzer Prize-winning novelist Richard Russo recently called Day "an incredible writer, and the stories are just stunning." Learn more in this previous story.
Back