Women Face Oglethorpe for SCAC Basketball Title Sunday
March 1, 2008
Also: Listen Live to Sunday's Game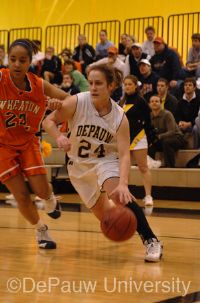 March 1, 2008, Conway, Ark. - An 85-69 win over Colorado College in the Southern Collegiate Athletic Conference basketball tournament tonight sends DePauw University's women's basketball team to the championship game of the tourney for the sixth consecutive year. The Tigers never trailed in the contest and were led by Gretchen Haehl's 23 points.
DePauw will play Oglethorpe in the championship contest at 2:30 p.m. CST Sunday (3:30 Greencastle time). DePauw has won the last two SCAC titles and three of the previous five contested and Sunday's championship tilt is a rematch of last year's title game.
For more details on today's game, click here.
Listen to Sunday's contest on student radio station WGRE (91.5 FM or via this link).
Back