Indianapolis Star Previews Tony Blair's DePauw Visit
March 2, 2008
Also: Security Information for Monday's Event; Original Announcement of Tony Blair's Ubben Lecture; E-Mail a Question for Tony Blair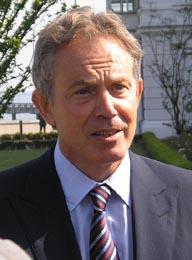 March 2, 2008, Greencastle, Ind. - "DePauw University will ratchet up security Monday night on its Greencastle campus, where former British Prime Minister Tony Blair will give his first free, public U.S. speech since resigning in June," begins a story published in this morning's Indianapolis Star. Andy Gammill writes, "Ken Owen, a university official coordinating the lecture, said the speech may be the biggest event in DePauw's history, although a 1958 speech by British Prime Minister Harold MacMillan drew throngs along his route from Indianapolis to Greencastle."
"I think we're known for having memorable events, and this is one that will be remembered for a long, long time," Owen, executive director of media relations at DePauw and a 1982

graduate of the University, tells the newspaper.
Access the complete article, headlined "DePauw prepares for Blair speech; University tightens security ahead of visit by Britain's ex-leader," at IndyStar.com.
Tony Blair's Timothy and Sharon Ubben Lecture, "Challenges and Opportunities Facing 21st Century Citizens of the World," will begin at 7:30 p.m. in the Lilly Center's Neal Fieldhouse (702 S. College Avenue).
The event is free and open to all on a first-come, first-served basis. Doors open at 5 p.m. and will close by 7 p.m.
For more detailed information on tomorrow's security arrangements, click here.
The original announcement of Mr. Blair's visit, which contains biographical information, can be accessed here.
Created by a gift by 1958 DePauw graduates Tim and Sharon Ubben, the Ubben Lecture Series has brought distinguished individuals to the Greencastle campus since 1986. The current academic year has included appearances by PostSecret founder Frank Warren in November and Ralph Nader in September.
Other past Ubben Lecturers have included: former British Prime Ministers Margaret Thatcher and John Major, Mikhail Gorbachev, Benazir Bhutto, Gen. Colin Powell, Shimon Peres, Julian Bond, Ross Perot, E.O. Wilson, Ken Burns, Robert Gates, Hotel Rwanda's Paul Rusesabagina, Elie Wiesel, David McCullough, L. Paul Bremer, Jim Lovell, Eric Schlosser, Naomi Wolf, Spike Lee, Barbara Bush, Jesse Jackson, General Wesley Clark, Paul Volcker, Sister Helen Prejean, ice cream entrepreneurs Ben & Jerry, Peyton Manning (seen in photo with the Ubbens), Willy Brandt, Mitch Albom, Lynne Cheney, Mike Krzyzewski and Harry Belafonte.
To view a complete roster of Ubben Lecturers, which includes links to video clips and news stories, click here.
Source: Indianapolis Star
Back