Tony Blair's DePauw Visit Merits Front Page Indianapolis Star Coverage
March 4, 2008
Also: Tony Blair's Ubben Lecture; Tony Blair at DePauw Photo Gallery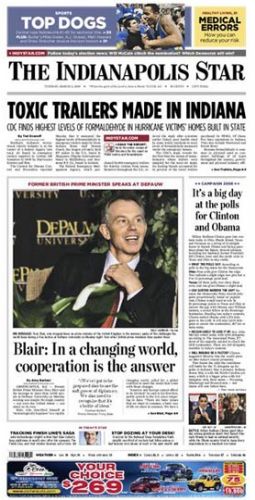 March 4, 2008, Greencastle, Ind. - "Former British Prime Minister Tony Blair said his message to more than 4,000 people at DePauw University on Monday was simple: No single country -- not even the United States -- can stand on its own," begins an article on the front page of this morning's Indianapolis Star. Amy Bartner reports, "Blair, who described himself as 'technologically hopeless' in a rapidly changing world, called for a global coalition to meet the needs that come with those changes."
The story, accompanied by three color photographs, points out that "Blair was the United Kingdom's prime minister from 1997 to 2007 and the fifth prime minister to speak at DePauw. He joins Harold Macmillan, who spoke in 1958; Harold Wilson in 1981; Margaret Thatcher in 1992; and John Major in 2001. His remarks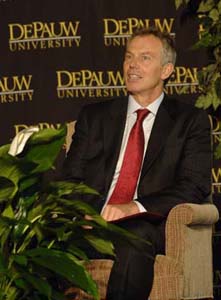 lasted about 30 minutes, then he responded to questions from three students from DePauw's media outlets. The crowd nearly filled Lilly Center's Neal Fieldhouse in Greencastle ... He spoke as part of DePauw's Ubben Lecture Series, which has included Mikhail Gorbachev, Benazir Bhutto, Colin Powell, Elie Wiesel, Spike Lee and others."
The article notes how long lines formed outside the Lilly Center before doors opened a 5 p.m. and includes comments from some of those who braved the wind, rain and chill to hear the address. Bartner writes, "DePauw seniors Jane Knoche and Jessica Hollar said they were inspired by Blair's speech. 'He's one of the most well-known politicians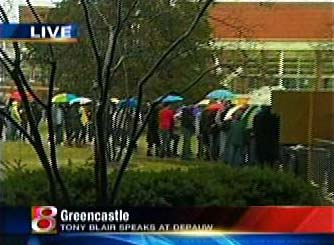 of our generation,' Knoche said. 'It was inspiring, and he discussed some very compelling topics.' Hollar said she agrees that it's extremely important for the world's great powers to work together. 'There are some issues that we all have to think about,' she said."
Read the complete text at IndyStar.com. The newspaper also offers a photo gallery of Blair's DePauw speech.
An Associated Press account of last night's Ubben Lecture begins, "Former British Prime Minister Tony Blair said Monday he fears the United States and Europe won't fully understand how rapidly the world is changing in the 21st century and won't adapt fast enough to keep up." It adds, "Speaking to about 5,000 people at DePauw University, Blair urged the U.S. to unite with Europe to develop a strong global agenda to address
global problems such as terrorism, global warming and the rift between East and West."
Read more at the Web site of New York's Newsday.
Indianapolis CBS affiliate WISH-TV provided live reports from outside of the Lilly Center at 5 and 6 p.m. (

[Download Video: "WISH 5 p.m. #1" - 1422kb];

[Download Video: "WISH 5 p.m. #2" - 1500kb]). The station's primary male anchor, Eric Halvorson, said at 5, "It's amazing how big the line has become," as the camera panned College Street outside the athletic center and he interviewed DePauw students. One of them, Mike Beeman, described seeing Tony Blair as a "once-in-a-lifetime" opportunity.
Natalie Holtzinger and Phillip Judd also talked with the station as they waited for the doors of the venue to open.
In the "tease" for his 6 p.m. report, Halvorson noted,

[Download Video: "6 p.m. Preview" - 656kb]"DePauw University scores another visit by a big-time foreign dignitary."
The station's 11 p.m. report, which Halvorson delivered from the WISH set, included clips of the Ubben Lecture.

[Download Video: "A Clip of the 11 p.m. Report" - 1312kb]
Visit WISH online, where the complete story can be viewed.
Also available is a report and video clip from Terre Haute station WTHI.
A summary of last night's Ubben Lecture -- including photos and video clips -- can be found in this previous story.
Source: Indianapolis Star
Back