Enjoy Sunday DePauw Band Concert at Green Center or on WGRE
March 4, 2008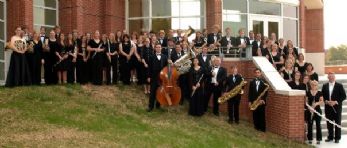 March 4, 2008, Greencastle, Ind. - The DePauw University Band will present its first concert of the spring semester this Sunday, March 9, at 3 p.m. in Kresge Auditorium of the Judson and Joyce Green Center for the Performing Arts. The concert is free and open to the public, and will be broadcast live via DePauw's student radio station, WGRE (91.5 FM or via this link).
Sunday's performance will feature two works by Phillip Sparke (Overture for Woodwinds and Sunrise at Angel's Gate), Pacem by Robert Spittal, Sonata No. 44 by Domenico Scarlatti, and Starsplitter by Philip Rothman. The concert will also feature Music for Winds, Piano, and Percussion by DePauw adjunct professor of music and trombonist James Beckel.

The University Band and its director, Craig Paré, are preparing to record the ensemble's seventh compact disc. The band's last CD, Brooklyn Bridge, was released last year. Learn more in this previous story.
For more information about events, visit the DePauw University School of Music online.
Back