Tony Blair "Has a Job, Allegedly": Prof. Ken Bode
March 7, 2008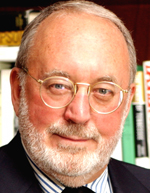 March 7, 2008, Greencastle, Ind. - "Why is former British Prime Minister Tony Blair traveling around the United States at just this moment?," Ken Bode asks in an Indianapolis Star op-ed today. "As Blair was lacing up his brogans to begin a lecture tour," which he launched with a Timothy and Sharon Ubben Lecture at DePauw Monday night, "all hell was breaking out on the Israel-Palestine border," writes Bode, Eugene S. Pulliam Distinguished Visiting Professor of Journalism at DePauw University.
Dr. Bode notes, "Daily Hamas rocket barrages prompted Israel to launch deadly air strikes on Gaza City. The death toll rose to its highest point in seven years. Urgent consultations were scheduled at the United Nations and Condoleezza Rice was dispatched to the region to try to get the massacre stopped and peace talks started. What does all of this have to do with Tony Blair? Well, Mr. Blair has a job, allegedly." (at right: Tony Blair greets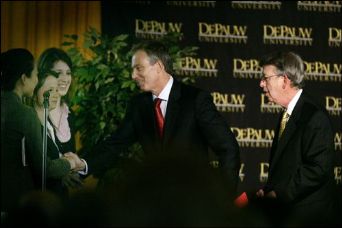 DePauw student journalists following his lecture; photo by Kelly Wilkinson/Indianapolis Star)
The professor notes that, upon stepping down as prime minister last June, Blair became special envoy for the Middle East Quartet (the U.S., U.N., Russia and the European Union), "promising finally to put an end to the Arab-Israeli mess. The reason we need a special envoy is that America really has no Middle East policy. We have only the promise of President Bush that there will be a peace accord before he leaves office. So, George needs you, Tony. If you could help get peace, there might be more to the Bush legacy than Iraq, eroded civil liberties, a raging deficit and a tanking economy."
Bode, a former analyst for CNN and NBC, argues that Blair's support for the Iraq war and his image as "Bush and Cheney's chief wingman," took a heavy toll. He writes, "By the time Blair left Downing Street, only 22 percent of Britons still thought he could be trusted. He left his fellow countrymen with their civil liberties eroded by draconian new anti-terrorism laws, yet feeling more at risk from terror than before Iraq was invaded."
The column concludes, "Blair wanted the job of special envoy to the Middle East so that it would help save the legacy he tarnished so badly with his Iraq policies. Perhaps, when he finishes his buck-raking American lecture tour, Blair finally will report for duty."
Access the essay in full at College News.org.
A summary of Tony Blair's Monday lecture at DePauw -- which includes video clips -- can be found here. Also available is an article on media coverage of the Ubben Lecture.
In last week's Star op-ed, Ken Bode wrote of unique security concerns faced by African-American presidential candidates.
Source: Indianapolis Star
Back