New TV Programs Will Serve "Overlooked Market," Prof. Jeff McCall '76 Tells Baltimore Sun
March 7, 2008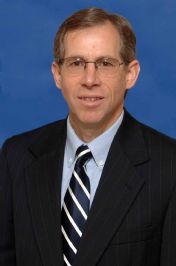 March 7, 2008, Greencastle, Ind. - "The media industry is just now getting wise to what has really been an overlooked market, and that is senior citizens," Jeffrey M. McCall, professor of communication at DePauw University, tells the Baltimore Sun. Dr. McCall is quoted in an article that previews Monday's launch of AARP-TV -- two programs which will appear on the Retirement Living TV network. Tanika White notes that it "marks the first time that AARP -- the nation's largest membership organization for people over the age of 50 -- has created its own original television programming."
McCall adds, "There's a realization now in the media industry -- and we're seeing this a lot in television -- that seniors watch a lot of TV. They have a lot of opportunity to watch TV, and their needs have not been met."
The Sun's White notes, "Though hardly monolithic, many seniors generally don't get much enjoyment out of today's primetime lineups of reality shows and sitcoms, McCall said. 'And
senior citizens are a lot less likely to tolerate a lot of programming with a lot of violence and/or sex,' he said. 'There's also a lot of evidence to show that seniors watch a lot of cable news channels.'"
Read the complete story, which is published in today's edition, at the newspaper's Web site.
McCall, a 1976 graduate of DePauw, is author of the recent book, Viewer Discretion Advised: Taking Control of Mass Media Influences. He was cited in Monday's Washington Times and appeared on FOX News Channel's O'Reilly Factor January 31.
Source: Baltimore Sun
Back