Women Advance in NCAA Tournament by Downing Denison
March 7, 2008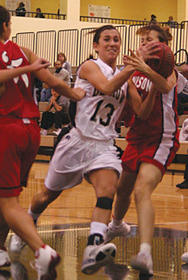 March 7, 2008, Greencastle, Ind. - DePauw University's women's basketball team advanced to the second round of the NCAA Division III basketball tournament tonight after defeating Denison University, 70-53. It is the team's fifteenth consecutive victory. Cassie Pruzin (pictured) led the Tigers with 19 points, while Gretchen Haehl added 13.
With the victory, the 26-3 Tigers advance to a 7 p.m. Saturday contest versus Washington University (St. Louis). It will mark a rematch of last year's NCAA Division III championship game, which DePauw won, 55-52. Washington claimed a 73-72 win over Wilmington College earlier today at DePauw's Neal
Fieldhouse.
For comprehensive coverage of the women's basketball team, click here.
Back