Former DePauw Administrator Takes Helm of Minority Health Partnership
March 9, 2008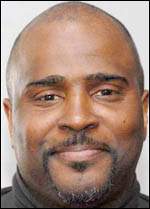 March 9, 2008, Greencastle, Ind. - Kevin Brown, formerly associate dean of admissions and director of minority student recruitment at DePauw University, has been appointed director of Minority Health Partnership. The Battle Creek Enquirer describes MIchigan-based MHP as "a collaborative organization working to improve minorities' health."
Most recently, Brown was director of the Albion Youth Development Coalition and assistant to former Albion College President Peter Mitchell.
"My contacts in Albion will help us build new relationships and help us connect with resources to help us move forward in the county," Brown tells the newspaper. "I think working together we can certainly do more than working independently or seemingly in competition with one another."
Read more at the Enquirer's Web site.
Back