Tigers Advance to the NCAA Round of 16 with Second-Round Win
March 8, 2008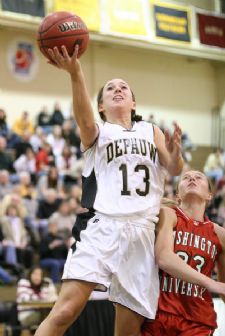 March 8, 2008, Greencastle, Ind. - Sixth-ranked DePauw hit all eight free throws in the final 1:14 and advanced to the NCAA Division III round of 16 for the third straight year with a 73-66 second-round victory over Washington-St. Louis.
The Tigers improved to 27-3 and face 27-2 and 14th-ranked Amherst College on Friday, March 14 at a time and site to be determined on Sunday. Washington finishes its season at 19-8.
DePauw's Emily Marshall, who played just the opening 1:55 of the first half after picking up her second foul and then collected her fourth foul with 9:35 left in the game, grabbed offensive rebounds on consecutive possessions in the final two minutes of the contest which led to four DePauw points.
"When I got those two early fouls, I was really mad," Marshall said. "Coach told me to keep my head in the game because I knew they were going to need me. Every time someone takes a shot, I think they're going to miss, and even if they don't, I have the mindset to get the ball."
The Tigers held a 65-62 lead before Marshall grabbed the first offensive board allowing Jenna Fernandez to hit a pair of free throws with 1:14 left. Washington's Janice Evans rebounded Halsey Ward's miss and her layup with 1:00 left closed the DePauw lead to 67-64.
DePauw used most of the shot clock on the ensuing possession and Gretchen Haehl's jumper was off the mark, but Marshall was there for the rebound and was quickly fouled with 30.7 seconds remaining. Marshall hit both ends of the one-and-one to make it 69-64.
Fernandez grabbed Alex Hoover's miss and Cassie Pruzin went to the line with 20 seconds left where she hit both tosses. The Bears' Zoe Unruh scored on a layup with 14 seconds remaining and Washington fould Haehl with 12 seconds remaining. Haehl nailed both and secured the Tigers' 16th straight victory and 26th consecutive home win.
DePauw led by as many as nine at 24-15 with 7:43 left in the first half after Pruzin's layup but the Bears scored the final five points of the half and went to the break with their first lead of the game at 33-32.
The Bears' largest lead came after Hoover's layup made it 40-37 with 17:53 left in the contest. Washington's final lead was at 44-43 after Zoe Unruh's jumper with 14:05 left. Fernandez and Katie Mathews scored on back-to-back possessions to give the Tigers a 47-44 advantage.
The Tigers eventually stretched the lead to as many as seven points on two occasions before the Bears closed the gap to 61-60 on Ward's three with 3:56 left. Marshall's offensive rebound and layup followed by Fernandez's layup gave the Tigers a five-point cushion with three minutes remaining.
Washington outrebounded DePauw by a 21-14 margin in the first half and at one point held a 10-2 advantage in second-chance points. However, the Tigers finished with a 39-37 advantage on the glass and a 20-12 edge in second-chance scoring.
"Emily had a few," DePauw head coach Kris Huffman said of the Tigers' offensive rebounds. "Adedrea (Chaney) had a few. It can take a lot of wind out of the defensive sails when you can get an offensive rebound. That helps a lot."
Haehl and Fernandez each scored 17 in the win, while Pruzin added 15. Marshall grabbed seven rebounds in 14 minutes including five on the offensive glass. Andrea Travelstead also grabbed seven boards, while Chaney finished with five in just seven minutes.
"That was the difference in the game," Washington coach Nancy Fahey said of DePauw's rebounding. "They are so tough on the offensive boards. When the shot goes up, they have the sense to hit the boards hard."
Evans paced Washington with 19 points and nine rebounds and Kathryn Berger added 12 points and eight boards. Hoover led all with seven assists.
The Tigers shot 40.9 percent for the contest while the Bears were at 41.9 percent, but for the second straight night DePauw committed single-digit turnovers with eight. Washington turned it over 14 times and the Tigers held a 19-8 lead in points off of turnovers.
photos: Alex Turco
Back