Dan Quayle '69 and Other Luminaries Offer Recollections of Yankee Stadium in New Book
March 12, 2008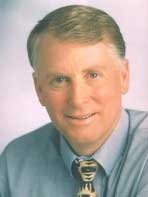 March 12, 2008, Greencastle, Ind. - Dan Quayle, America's 44th Vice President and 1969 graduate of DePauw University, is among the luminaries offering their recollections in Yankee Stadium: The Official Retrospective. The new book, by Al Santasiere III and Mark Vancil, "wraps up the soon-to-be-completed 85 years of the world's most famous sporting venue with an impressive collection of written history, photographs and first-person accounts," according to MLB.com.
Others who contributed to the book include George Steinbrenner, Rudy Giuliani, former Presidents George H.W. Bush and Bill Clinton, Paul McCartney, Muhammad Ali, Cal Ripken Jr., Jim Brown, Regis Philbin, Joe Torre, Derek Jeter, Don Mattingly and Yogi Berra. "In all, the book offers first-person recollections of over 80 celebrity contributors from the worlds of sports, politics, pop culture and elsewhere, [which] prove that just about anybody who's taken in a game or event at the legendary ballyard at East 161st Street and River Avenue in The Bronx has their own favorite memory of the House that Ruth Built," writes Doug Miller.
Yankee Stadium, which opened 85 years ago, is to be replaced by a new ballpark after the current season.
"The book, which was published by Simon and
Schuster, begins with a complete tour of the stadium as it is today, and then goes right into a detailed section outlining the entire history of the ballpark, which was erected in 1923," Miller reports. "We revisit all the great moments in Yankee Stadium baseball history, from Lou Gehrig's farewell speech to Babe Ruth's first home run there to A-Rod's 500th. The book also mentions the many iconic non-baseball events that the field has hosted over the years. These include papal visits, concerts, and some unforgettable boxing matches like Joe Louis vs. Max Schmeling and Muhammad Ali vs. Ken Norton. There are also memories of that 'other' sport like the 'Greatest Game Ever Played,' also known as the 1958 National Football League Championship, and the Notre Game game in which coach Knute Rockne asked his team to 'win one for the Gipper.'"
Read the complete article at MLB.com.
Dan Quayle was also cited in this recent story.
Back