French Filmmaker Chantal Briet Visits Tuesday
March 16, 2008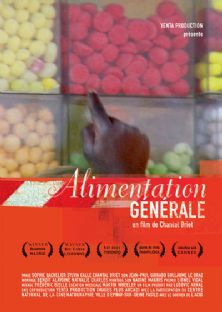 March 16, 2008, Greencastle, Ind. - French documentary filmmaker Chantal Briet will come to the campus of DePauw University to present and discuss her acclaimed Alimentation Générale (The General Store). The event will take place this Tuesday, March 18, in the Pulliam Center for Contemporary Media's Watson Forum. The free screening, which begins at 7:30 p.m., will be followed by a question-and-answer session with Briet.
"Chantal Briet's superb The General Store is a quiet celebration of the quotidian, of the struggling Everyman and Everywoman living in Paris' decayed suburban housing tracts," wrote Variety's Robert Koehler. The film focuses on a grocery and its owner. "Perhaps Briet's most charming and irrefutable statement in The General Store is that utopia is all around us if we care to look and listen, and that it's in local mom-and-pop

markets where ideal orms of community arise and thrive," notes the review.
Tuesday's event is presented by the departments of film studies and modern languages.
Back