FOX News' Bret Baier '92 Discusses Politics, News Coverage and the Impact of His DePauw Education
March 17, 2008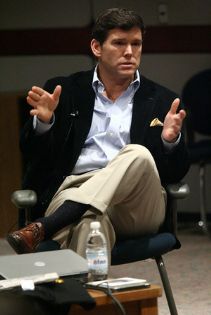 March 17, 2008, Greencastle, Ind. - The battle for the Democratic presidential nomination will likely drag on until the party's convention and intensify, predicted FOX News Channel chief White House correspondent Bret Baier as he returned to DePauw this afternoon. Baier, a 1992 graduate of the University, presented the Gertrude and G.D. Crain Jr. Lecture at the Pulliam Center for Contemporary Media.
Baier says Barack Obama's call for change is having an impact on the national dialogue, and particularly resonates with college-aged Americans.

[Download Audio: "Bret Baier '92 on Obama-Clinton" - 161kb] "I think it's real," he noted, adding, "I think if this nomination goes to Hillary Clinton the concern for Democrats is that there would be just a huge squashing of what was excitement. And trying to put that back in the bottle and regen it up for the general election I think is going to be a real challenge if it turns the other way."
While Republican John McCain will run strong on national security issues, Baier told the DePauw audience the nation's troubled economy could make jobs, wages and prosperity the focus of the presidential race.

[Download Audio: "What History Says" - 153kb] "It's a constant: if a bad economy happens around an election year, it is bad for the party that is trying to hold on to the White House. Very bad. And it would be hard to imagine something in the war that could be that good to trump the economy that appears to be that bad."
Although some pundits question FOX News' assertion that it is "fair and balanced," Baier maintains,

[Download Audio: "No Mandate" - 337kb] "For reporters at FOX, there is not a top-down mandate." The network has been "painted" right wing, he added. "I can tell you
from being a reporter there is not a mandate from above how we report each story. The only thing we've ever been told is, basically, the tenets of journalism -- make sure that each side has a fair shot. If you look at Special Report with my boss, Brit Hume, or FOX Report with Shepard Smith, I just do not think that anyone could say that either of those two shows are right, conservative ... if people who are critics look at them, I think they'd say that they are fair."
Baier continued,

[Download Audio: "Editorials vs. News" - 240kb] "What happens is, we get rolled in to our opinion shows, much like a newspaper, when you have the New York Times in their news section and then you turn the page to the editorial section. The reporter for the New York Times doesn't necessarily share the views or espouse the views of Maureen Dowd in the editorial section. That's how we, at FOX, talk about the programming -- that we report the news during the day and that, after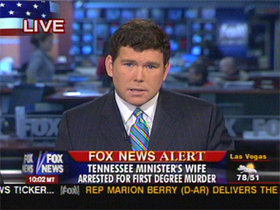 Shepard Smith's show, we turn the page and the editorial page comes on."
Baier joined FOX in 1998 as the first reporter to be based in the network's Atlanta bureau. As the network's southeast correspondent, he covered stories ranging from the 1999 Elian Gonzalez story to the 2001 Timothy McVeigh execution. He also provided the network with a series of reports on Cuba -- after traveling there six different times. Baier also covered more than a dozen hurricanes, including stories filed from the centers of the storms. He has made 12 trips to Iraq and eleven to Afghanistan. In January, his hourlong special on President George W. Bush included exclusive interviews with the commander in chief. It was screened before today's Crain Lecture.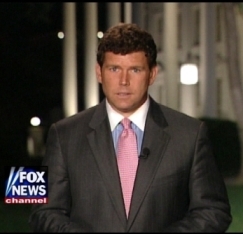 An English composition and political science major at DePauw, Baier says the University "contributed tremendously" to his success. He told the session's moderator, Ken Bode -- his former professor at DePauw -- that his liberal arts education led him to examine many topics and ask a lot of questions.

[Download Audio: "Baier's DePauw Experience" - 257kb] "The ability to know a lot about a lot of different topics -- to take a bunch of different classes and to be immersed in a bunch of different things has helped me tremendously," Baier told his audience. He recalled that he was a freshman when the Center for Contemporary Media opened. "The ability to tap into everything the media center had -- which was state-of-the-art, is still -- at the time was unprecedented. And it enabled me to make a tape," and provided a springboard to the career he now enjoys.
The network news correspondent encouraged today's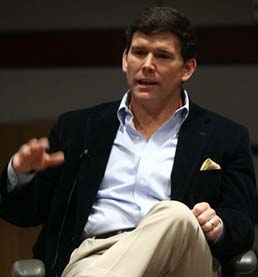 DePauw student journalists to

[Download Audio: "Career Advice" - 305kb] "dive in (and) get experience" through campus media organizations, internships and, upon graduation, in the workplace. He recalled starting his career in small markets such as Beaufort, South Carolina, and Rockford, Illinois. "It's not an easy road to go, because it's not exactly lucrative at the beginning," Baier stated, recalling subsisting on "saltines and ketchup" early in his broadcast career.
Those who have a love for writing and reporting should perservere, Baier stated, as he discussed the awe he feels when standing in the Oval Office as a regular witness to history. "In today's media environment, there's a lot of different options for people; a lot of different places to plug in." And the key thing is to not give up," he said.
Prior to being named chief White House correspondent, Baier served as FOX's national security correspondent and reported on military and national security affairs, as well as on defense, military policy, and the intelligence community from the Pentagon.
In that role, which he assumed after the terrorist attacks of September 11, 2001, Baier worked alongside John McWethy, the national security correspondent for ABC News and 1969 graduate of DePauw University.

[Download Audio: "Baier on McWethy" - 217kb] "Oh, he was just great," Baier recalls. "You know, I'm a newbie at the Pentagon and here's a guy who essentially the walls are talking to."
McWethy died in a skiing accident February 6, and Baier remembers him as a friend and mentor. "We had a great connection because of DePauw and because of the ability to talk about Greencastle. He was a real pro, a real pro, and a real gentleman. And I learned a lot about not just covering the Pentagon, but about life," including McWethy's admonition that people should always provide some separation between their work and their lives.
Endowed by Rance Crain, president of Crain Communications and a member of DePauw's Class of 1960, The Gertrude and G.D. Crain Jr. Lecture Series honors Mr. Crain's parents. Richard M. Cohen (pictured at right), author of Strong at the Broken Places: Voices of Illness, a Chorus of Hope, spoke February 11. David W. James, Assistant United States Secretary of Labor for Public Affairs and 1994 graduate of DePauw University,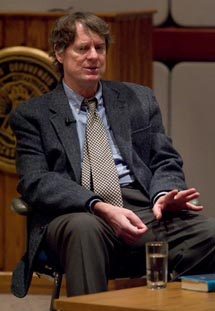 was a February 18 guest, while March 5 brought Peabody Award-winning documentary film producer David C. Taylor to campus.
Other previous Crain Lecturers have included: Sarah Shepherd, senior producer for CNN's Larry King Live and 1997 graduate of DePauw University; Tim McCaughan, senior White House producer for CNN and 1993 graduate of DePauw University; David Keene, chair of the American Conservative Union, and Roger Wilkins, a noted civil rights leader, historian, and Pulitzer Prize-winning journalist; Father Richard P. McBrien, Crowley-O'Brien Professor of Theology at the University of Notre Dame and a consultant to ABC News for papal events; political analyst Charlie Cook; Wall Street Journal reporter and 1996 DePauw graduate Aaron Lucchetti; military sociologist Charles Moskos; Samantha Power, author of A Problem from Hell: America and the Age of Genocide; historian Douglas Brinkley, author of Tour of Duty: John Kerry and the Vietnam War; and Joe Trippi, who managed Howard Dean's presidential campaign.
(photos by Alex Turco)
Back