Prevention Cites Research of Prof. Matt Hertenstein
March 29, 2008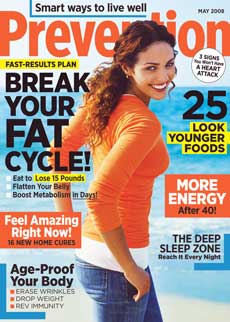 March 29, 2008, Greencastle, Ind. - "Your hands can convey emotions as effectively as facial expressions, says a a new study," according to the May issue of Prevention. The magazine goes on to note that the research was conducted by Matt Hertenstein, assistant professor of psychology at DePauw University. In the column, Dr. Hertenstein offers a few tips designed to help those in relationships "find the right touch."
The May issue is appearing on newsstands now. Visit Prevention's Web site by clicking here (the item in question is not available online).
The work conducted by Professor Hertenstein and DePauw students in his Emotion Lab at the University was also recently featured on the Canadian Broadcasting Corporation's program, The Nature of Things. Other stories have appeared in Sunrise magazine, the Toronto Sun, and National Public Radio.
"Decades of research has been done on the face and the
voice and the distinct emotions that they communicate," reported NPR's Michelle Trudeau. "But touch had been relatively neglected by researchers until Hertenstein stepped in and began his experiments ... Before this study, there was only evidence that touch could communicate the general gist of whether an emotion was positive or negative, what researchers call the veilance of the emotion -- like warmth and intimacy versus pain and discomfort. But this study shows, for the first time, that touch can successfully, reliably communicate several distinct emotions."
Visit the Emotion Lab online by clicking here.
Source: Prevention
Back