Late Wabash TD Gives Rivals a Seventh Straight Football Triumph
November 19, 1927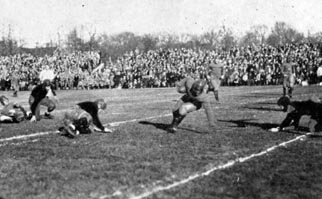 November 19, 1927, Crawfordsville, Ind. - Seven is no lucky number for DePauw coach William L. Hughes and his DePauw University football team. A tough 13-7 loss to Wabash College this afternoon marks the Tigers' seventh consecutive loss in the rivalry series. The setback ends the Bengals' 1927 grid season with an even 4-4 mark. Wabash winds up the campaign with a 7-2 record.
The two teams played to a scoreless tie until Wabash head coach Pete Vaughan sent in an entirely new backfield just before halftime, and the Little Giants responded with a touchdown. DePauw answered in the third quarter with a scoring run by Don Brandenburg, but a Wabash touchdown in the final stanza gave the home team the victory.
Prior to giving up the game-winning drive, DePauw's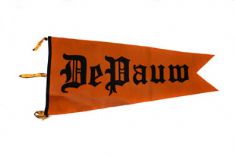 defense stopped three Wabash drives within the 5 yard line.
View a "Monon Memory" of the 1927 DePauw-Wabash football contest here:

[Download Video: "1927 Monon Memory" - 2700kb]. A complete roster of the video clips -- written, produced and narrated by 1982 DePauw graduate Ken Owen -- can be accessed by clicking here.
For comprehensive information on one of college football's greatest rivalries -- which in 1932 introduced a 300-pound locomotive bell as its prize -- visit the Monon Bell Web page.
Back