Coach Matt Walker '99 Featured in Newspaper Preview of DePauw-Wabash Baseball Game
March 19, 2008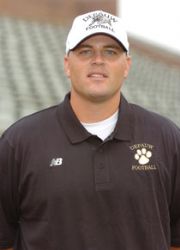 March 19, 2008, Greencastle, Ind. - "Since becoming DePauw University's head baseball coach, Matt Walker has never lost to the Tigers' most-revered rival," notes a story in today's Paper of Montgomery County. "He's led DePauw to 14-straight wins over in-state rival Wabash College -- including an amazing seven-run come-from-behind victory last year. With one more victory, the 1995 Crawfordsville High School graduate could reach an astounding new mark -- making the Tigers' winning streak hit a decade long (starting next year) and giving him a clean sweep over the Little Giants, in baseball and football."
The story by John Groth (DePauw 2004) notes that Walker, a 1999 DePauw graduate, is head coach of the University's football team, as well as the leader of the baseball program. "It's different in football when you only play 10 games. In baseball, we play 40-plus games. On one hand, yeah it's important. We want this game more than anything. But at the same time a win or a loss is not going to break our season. We still have 30-some games to go, plus it's not a conference game."
Walker adds, "You really want to win this game because of that Wabash-DePauw thing. But at the same time there's a lot more of the season left and a lot more going on. You put most of your marbles in conference play, where it can make or break your season." (at right: Walker being interviewed by Indianapolis FOX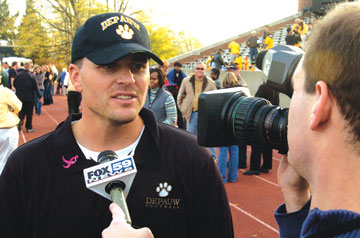 affiliate WXIN after the thrilling 2007 Monon Bell Classic;

[Download Video: "2007 Monon Memory" - 7808kb])
Groth points out that the last time DePauw lost a baseball game to Wabash -- on April 27, 1999 -- Walker was a senior pitcher and took the loss after coming on in relief in that contest.
If weather permits, the 11-3 Tigers will take on 7-6 Wabash this afternoon at 4 in Crawfordsville. [UPDATE 10:41 a.m.: The game has been postponed because of rain.)
Read the full text at the newspaper's Web site, and find more at the DePauw baseball team's online home.
Back