Two Faculty Members Join Smithsonian Jazz Orchestra on Musical Tour of Egypt
February 17, 2008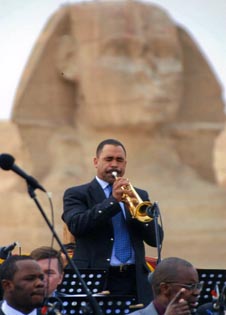 February 17, 2008, Greencastle, Ind. - "The sound of big band jazz isn't heard very often in these parts," begins an article in Daily News Egypt featuring this week's performances by the acclaimed Smithsonian Jazz Masterworks Orchestra. The orchestra-in-residence of the National Museum of American History is performing a concert tour of Egypt, February 13-20. Two members of the DePauw University School of Music faculty -- Lennie Foy and Randy Salman, who are also members of the SJMO -- are performing in the shows. (top photo: Foy blows his trumpet in the shadow of the Pyramids, February 15)
"Seeing the band perform in front of the Pyramids is an amazing thrill for me," Brent Glass, the director of Smithsonian's Natural Museum of American History, tells the newspaper. "It's astounding, just looking at it, that it's a relatively new form of art in front of something so ancient. It's simply awesome in the true sense of the word, to see Chester [Whitmore] leaping against the background of a Pyramid." (below right: Professors Salman and Foy)
Of the concert at the Pyramids, writes, "The backdrop was incredible; the band was superb; but all I wanted to do was get up and dance my socks off. Taking a nonchalant sweep around the open air auditorium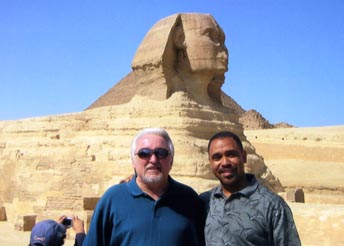 specially set up for the concert, it was clear that a fair many of my fellow jazz aficionados felt the same. Toes were tapping, shoulders were gliding and heads were jerking in time with the lush plucks of the double bass."
Read more at the Daily News' Web site.
Under the artistic and musical direction of David Baker, the Smithsonian Jazz Masterworks Orchestra serves not only to perpetuate one of America's greatest musical traditions, but also to perform classic jazz as a vital contemporary art form.
The Orchestra performed at DePauw February 9 before leaving for Egypt. Details can be found in this previous story.
Back