DePauw to Host 26 Students for Inaugural Undergraduate Ethics Symposium
March 27, 2008
March 27, 2008, Greencastle, Ind. - Twenty-six college students from across the nation will gather at DePauw University next week to discuss and explore moral issues at the inaugural Undergraduate Ethics Symposium. The programs, presented under the auspices of the Janet Prindle Institute for Ethics, will take place April 3-5, and most are open to the public.
Students were invited to submit papers on topics that include, but are not limited to, issues about human rights, environmental ethics, media ethics, ethics of international relations, science research ethics, personal ethics, and ethics and religion. The 26 undergraduates who were selected to participate in the symposium include twelve from DePauw. The other students are from Lewis University, Claremont-McKenna, Calvin College, University of North Florida, University of Tennessee, Azusu Pacific, St. Edward's and Biola.
Highlights of the symposium include the following programs,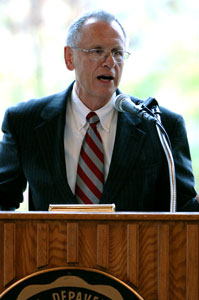 which are free and open to all:
Thursday, April 3:
7:30 p.m., Prindle Auditorium - Keynote lecture by John K. Roth, Frederick Distinguished Visiting Professor of Ethics, DePauw University (pictured at right): "The Failure(s) of Ethics."
Friday, April 4:
4:15 p.m., Prindle Auditorium, Lecture by Thomas Kasulis, The Ohio State University: "Responsiveness and Responsibility: Bringing a Japanese Perspective to Ethical Discussions."
7:30 p.m., Prindle Auditorium, Lecture and reading by Janet Neipris, New York University Tisch School for the Arts, "The Moral Responsibility of the Artist."
Saturday, April 5:
1 p.m., Prindle Auditorium - Lecture by Noah Lemos, College of William and Mary, "Variety and the Good Life."
The Undergraduate Ethics Symposium provides an outstanding opportunity for student scholars and creative writers to discuss their ethics-related work with leading scholars and creative writers in their fields and to participate in a significant discussion of ethical concerns. It is anticipated that the Institute will publish a Symposium volume, which, in addition to the presentations by the visiting guests, will include papers selected from works by the participants.
The Janet Prindle Institute for Ethics was dedicated on October 26, 2007. Visit the Institute online by clicking here.
Back