Three Students in the Sciences Awarded Prestigious Goldwater Scholarships
April 1, 2008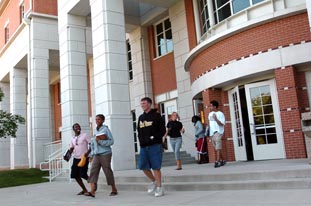 April 1, 2008, Greencastle, Ind. - Three DePauw University students -- juniors Alexander P. Breitinger and Nicole R. Stone, and sophomore Kathleen F. Mittendorf -- are recipients of Barry M. Goldwater Scholarships, the premier undergraduate award of its type in the fields of mathematics, the natural sciences, and engineering. DePauw and Hope College are the only two liberal arts colleges in America to have as many as three scholarship winners. The three DePauw honorees -- all Science Research Fellows -- are among 321 undergraduate sophomores and juniors from across the United States who are being awarded scholarships for the 2008-09 academic year.
The Goldwater Scholars were selected on the basis of academic merit from a field of 1,035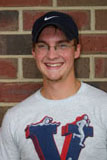 mathematics, science, and engineering students who were nominated by the faculties of colleges and universities nationwide. One hundred eighty-nine of the Scholars are men, 132 are women, and virtually all intend to obtain a Ph.D. as their degree objective.
A double major in chemistry and history, Alex Breitinger's goal is to earn a Ph.D. in analytical chemistry, conduct research in environmental-related topics and teach at the university level. "I hope to use my research not only in academia, but also to shape public policy," he notes. In 2007, he traveled to Tibet for a summer research project with Tim Cope, assistant professor of geosciences. Also the winner of a National Oceanic and Atmospheric Administration (NOAA) scholarship, Breitinger will spend his summer on an internship in Seattle working with hydrothermal fluid chemical analysis.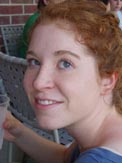 Kate Mittendorf is a double major in biochemistry and biology. While a sophomore, she worked on both a semester-long field biology project and then spent her summer in the molecular biology lab with associate professor of biology Henning Schneider, work which she will continue this summer. In November 2007, she attended a national neuroscience conference and presented a poster at the event. After DePauw, she plans to work toward a Ph.D. in neurobiology. She will conduct research in biomedical science, specializing in research pertaining to multiple sclerosis, and intends to someday teach at the university level.
Niki Stone is also a dual biochemistry and biology major. She had the opportunity to begin her research career as a student from South Putnam High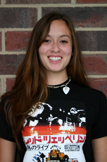 School, working for two summers with Wade Hazel, Winona H. Welch Professor of Biology, on a National Science Foundation Grant. Their efforts resulted in a paper published in the Annals of the Entomological Society of America, which Stone co-authored. Her other experiences include spending a summer at Rocky Mountain Biology Station in Gothic, Colorado. She'll work this summer at the Medical College of Wisconsin-Milwaukee Summer Integrated Biological Science Research program for undergraduates. Stone's career goals include receiving an M.D./Ph.D. in biomedicine, and later treat patients directly and conduct relevant research in biomedical science.
Gloria Townsend, who served as DePauw's faculty adviser and nominator for the Goldwater Scholarships,
says that through the process she "received three priceless gifts: Knowing that the three Goldwater winners all belong to and benefited from the Science Research Fellows program that I direct; finding out that DePauw was one of only two liberal arts schools to have the most (3) winners and to have as many or more awards than many larger universities such as Harvard, Princeton and Yale; and coaching three wonderful students who express their common desire to 'give back' to the world of science. It's a wonderful tribute to the talents of our students and the programs we have at DePauw," adds Dr. Townsend, Herrick E.H. Greenleaf Professor of Computer Science.
Thirty-three of this year's Scholars are mathematics majors, 227 are science and related majors, 52 are majoring in engineering, and 9 are computer science majors. Many of the Scholars have dual majors in a variety of mathematics, science, engineering, and computer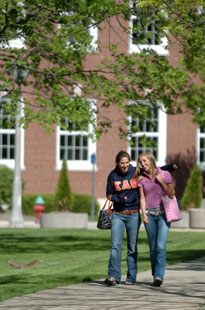 disciplines.
The one and two year scholarships will cover the cost of tuition, fees, books, and room and board up to a maximum of $7,500 per year.
Goldwater Scholars have very impressive academic qualifications that have garnered the attention of prestigious post-graduate fellowship programs. Recent Goldwater Scholars have been awarded 70 Rhodes Scholarships, 94 Marshall Awards (8 of the 40 awarded in the United States in 2008), and numerous other distinguished fellowships.
The Goldwater Foundation is a federally endowed agency established in 1986 to honor Senator Barry M. Goldwater. It was designed to foster and encourage outstanding students to pursue careers in the fields of mathematics, the natural sciences, and engineering. In its twenty-year history, the Foundation has awarded 5,523 scholarships worth approximately $54 million dollars.
Access a list of all 2008-09 Goldwater Scholars by clicking here.
Visit the Science Research Fellows program online.
Back