Writer Places Brad Brownell '91 in 'Final Four' to Lead IU Basketball Program
April 1, 2008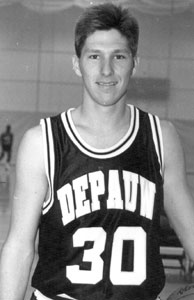 April 1, 2008, Greencastle, Ind. - Brad Brownell, head men's basketball coach at Wright State University, is among those rumored to be in the running to lead Indiana University's hoops program, notes the Fort Wayne Journal Gazette. Brownell, writes LaMond Pope, "has the strongest ties to the state. He's from Evansville, played at DePauw and was an assistant at Evansville and the University of Indianapolis. He's had four 20-win seasons in his six seasons," notes the newspaper of the 1991 DePauw University graduate. (top image: Brownell in his playing days at DePauw; below: Brownell today)
Pope offers a "final four" of possibilities for the IU position, underscoring the fact that his list is pure conjecture. "Keep in mind,
these are just four of the names that have cropped up during the past few days," he writes. Others on his list are Sean Miller, Rick Pitino and Mike Montgomery.
IU is being led by interim coach Dan Dakich following the February 22 resignation of Kelvin Sampson, who is accused of five major NCAA infractions.
Read the full article at the Journal Gazette's Web site.
An Associated Press story includes Brownell and Brad Stevens, head coach at Butler University and 1999 DePauw graduate, among the candidates to take the reins at IU. The text describes both as "up-and-comers."
Brad Brownell is 127-62 after six years as a head coach at Wright State and North Carolina-Wilmington. Learn more about him in this previous story.
Brad Stevens (pictured at left) led Butler to a 30-4 record and the NCAA tournament in his first season leading the Bulldogs. With a first round win in the tourney, Stevens became the youngest coach to win 30 games in a season in more than a half-century.
Back