Little Giants Prevail in Annual Football Rivalry Game, 17-0
November 24, 1923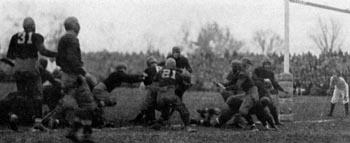 November 24, 1923, Crawfordsville, Ind. - An early touchdown drive led to a score by Wabash College's Freddie Wyatt, and the Little Giants' once again kept DePauw University off the scoreboard, winning the annual football grudge match, 17-0. The triumph ends the Tigers season with a 4-2-1 record. Wabash closes out at 4-3-2. (photo: Wabash scores one of its touchdowns)
The contest was played before a crowd estimated to be the largest in the history of Wabash's Ingalls Field. DePauw and Wabash have a gridiron rivalry that dates back to 1890.
View a "Monon Memory" of the 1923 DePauw-Wabash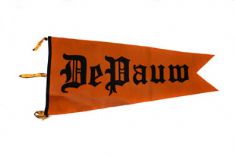 football contest here:

[Download Video: "1923 Monon Memory" - 2828kb]. A complete roster of the video clips -- written, produced and narrated by 1982 DePauw graduate Ken Owen -- can be accessed by clicking here.
For comprehensive information on one of college football's greatest rivalries -- which in 1932 introduced a 300-pound locomotive bell as its prize -- visit the Monon Bell Web page.
Back