Leatherheads Has Indirect Link to DePauw, Newspaper Reports
April 5, 2008
Also: Roster of All 'Monon Memories'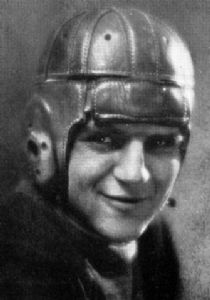 April 5, 2008, Greencastle, Ind. - The new motion picture Leatherheads, which stars George Clooney and Rene Zellweger, has an indirect link to DePauw University, notes Indiana's Wabash Plain Dealer. Joseph Slacian writes, "The movie is about professional football in the early 1920s. Reference to playing against the team from Wabash is made by an actor in one of the scenes." (at left: photo of DePauw football player, 1925)
Slacian notes, "Wabash did, indeed, have a football team during that era -- the Wabash Athletic Association ... The team played a variety of opponents, ranging from teams from South Bend, Cincinnati and Marion, to college teams from Earlham College and DePauw University," the newspaper reports.
Access the article, "Wabash had its own 'Leatherheads'," at the Plain Dealer's Web site.
An ongoing project to create a video history of the football rivalry between DePauw and Wabash College (which is located in Crawfordsville; the Wabash cited in the newspaper article is a city in northern Indiana) -- with the first game played in 1890 -- now includes 85 videos, including all of the games from 1923 to present. See a "Monon Memory" by clicking here, or visit the official Monon Bell page for comprehensive information on the 114-game series.
Back