Ground is Broken for Blackstock Field
March 19, 1921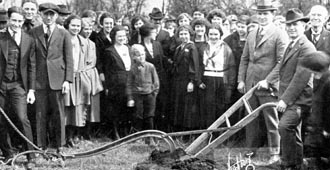 March 19, 1921, Greencastle, Ind. - The entire student body of DePauw gathered today with many alumni and friends of the University on the western edge of campus today as groundbreaking ceremonies were held for the new Blackstock Athletic Field. The new facility is made possible by a $25,000 gift from Mr. and Mrs. Ira B. Blackstock. Mr. Blackstock is an 1886 graduate of DePauw and serves as a member of the University's Board of Trustees.
Plans call for a sodded football field, a practice gridiron, a separate baseball diamond, a one-quarter mile track, a 220-yard straightaway and tennis courts. Eventually, the University will construct concrete bleachers at the site. The current athletic field, McKeen Field, will be used for intramural athletics, once Blackstock Field is ready for use.
Ira Blackstock earned a bachelor's degree from DePauw in 1886 and received his master's degree from the University in 1893. In 1907, he was made a Trustee of DePauw.
Learn more about DePauw athletics by clicking here.
Back