2008 Commencement DVD Now Available for Pre-Order
April 19, 2008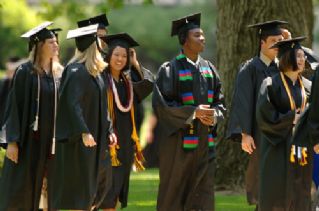 April 19, 2008, Greencastle, Ind. - DePauw seniors who graduate on Sunday, May 18, can have a permanent keepsake of their special day. Again this year, the University will create a commemorative DVD of commencement exercises, available for pre-order now. The discs -- which will be professionally replicated on a one-time production run of 300 units -- are available for $25 for the first copy, and $10 for each additional DVD being sent to the same address. You can access an online order page by clicking here.
The ceremony is scheduled to begin at 1 p.m. on the lawn of historic East College (weather permitting). As previously announced, Posse Foundation founder Deborah Bial will provide the commencement address to graduates and be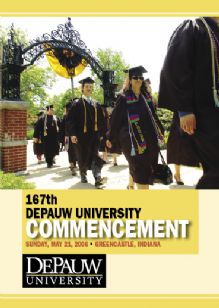 presented with the McNaughton Medal for Public Service. Three distinguished graduates of DePauw -- Carolyn T. Jones '58, George A. Purnell '71 and Douglas A. Smith '68 -- will receive honorary doctoral degrees at the ceremony. (at right: cover of 2006 commencement DVD)
The multi-camera production will include the entire program, including video of each graduate receiving his or her diploma.
As in past years, the DVD's menu will allow you to quickly access the spot in the program you want to see. If you're looking for a graduate whose last name is Jones, for instance, you click on the letter 'J' in the menu, you're immediately taken to the first person whose last name begins with the letter 'J' receiving his or her diploma. Users can also jump to specific speeches, or watch the program from beginning to end. DVDs, which are much more durable than video cassettes and offer significantly better picture quality, should provide a lifetime of enjoyment.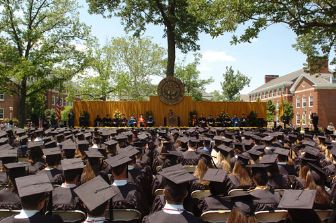 The 2008 commencement DVD will also include an array of bonus features, including campus highlights of the past four years (ranging from the 2006-07 women's basketball team's national championship to Ubben Lecturers); "Monon Memories" of the last four football battles with Wabash College for the prized Monon Bell; and a photo gallery of commencement day activities.
The commencement platter will mark the fifteenth DVD that DePauw has produced -- the 2002-2007 commencements and the last seven Monon Bell Classics also received the digital treatment. A special disc, "Celebrating Our Legacy," was also produced for Alumni Reunion Weekend last June. The discs are mastered by Ken Owen, executive director of media relations at DePauw.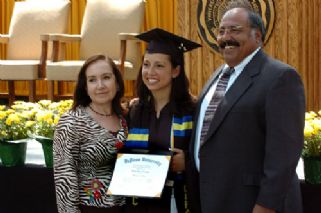 "With our 2002 commencement DVD, DePauw became one of the first colleges in the nation to offer a commencement disc, and its proven to be a very popular option for our graduates and their families," says Owen, a 1982 graduate of DePauw. "I've even had older alums tell me, 'I wish they had those when I received my diploma.' Graduation from college is one of life's milestones, and the DVD allows people in the DePauw family to revisit this special day with a high-quality video presentation on a digital format which should provide many years of enjoyment."
For more information on DePauw's 169th Annual Commencement, click here.
Back