Three Juniors Awarded Albert Lund '48 Scholarships for 2008-09
April 8, 2008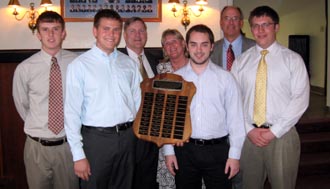 April 8, 2007, Greencastle, Ind. - Three members of Phi Delta Theta, Indiana Zeta chapter, at DePauw University are being rewarded for their scholarship and community involvement. Juniors Daniel L. Harrison, Jacob T. Krouse and Brian E. Spector were announced as 2008-09 Lund Scholars at tonight's Phi Delt scholarship dinner. Harrison and Spector are repeat winners of the award.
Created through the generosity of the late Albert L. Lund Jr., a 1948 graduate of DePauw and a member of Phi Delta Theta, Lund Scholarships will provide the three students awards of $6,000 each for the next academic year. (front row, l-r: Spector, Krouse and Harrison with current Lund Scholar John Schomburg '08; back row: Larry Lund '77, Lindsey Lund Peterik '74, and scholarship committee member Glenn Davis '79)
Albert Lund established the scholarship in 1999, to reward members of his fraternity for their dedication to academics and their involvement in campus and community activities. Mr. Lund passed away in 2003.
"Since it was by the grace of a Rector scholarship that my father was able to attend DePauw University, he believed it essential to give back to the University, and in particular to Indiana Zeta; where so many of his fondest college experiences occurred," says Albert Lund's son, Larry, who was also a Phi Delt at DePauw. "Through his gift, my dad sought to make this chapter an even stronger institution than it was when he was a student, thereby improving DePauw as well. It's truly the embodiment of the fraternity's motto, 'Not only not less, but more,' and I'm thrilled to honor these three young scholars."
Since its inception, the Lund program has now awarded a total of 31 scholarships.
Back