Second Half Wabash Barrage Buries Tigers, 30-0
November 25, 1922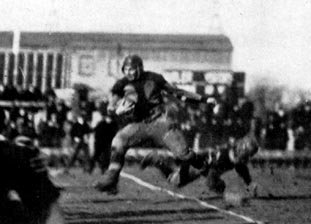 November 25, 1922, Indianapolis, Ind. - The annual football battle between DePauw University and Wabash College was a tale of two halves. The teams battled to a scoreless tie at halftime, but the men from Crawfordsville dominated in the second half and won this afternoon's contest, 30-0.
The game was played at Irwin Field in Indianapolis. The Tigers and new head coach James Ashmore conclude the 1922 football season with a record of 4-3-2. Wabash finishes at 7-3.
The second half romp included two touchdowns by William Singleton, a kickoff return for a score by Irvin "Tiny" Knee (seen in top photo), and the final tally, which occurred when Elvin Elliott scooped up a blocked punt and took it into the end zone.
View a "Monon Memory" of the 1922 DePauw-Wabash football contest here:

[Download Video: "1922 Monon Memory" - 3512kb]. A complete roster of the video clips -- written, produced and narrated by 1982 DePauw graduate Ken Owen -- can be accessed by clicking here.
For comprehensive information on one of college football's greatest rivalries -- which in 1932 introduced a 300-pound locomotive bell as its prize -- visit the Monon Bell Web page.
Back