"DePauw is Where I Started to Love to Learn," Indiana BMV Chief Ron Stiver '96 Tells Students
April 15, 2008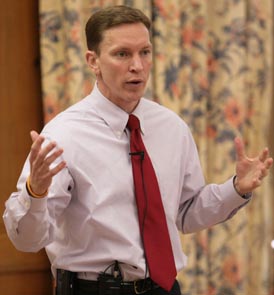 April 15, 2008, Greencastle, Ind. -

[Download Video: "The New Challenge" - 521kb] "Now, from an organizational standpoint, my biggest concern is complacency," the commissioner of the Indiana Bureau of Motor Vehicles, Ron Stiver, said at his alma mater this afternoon. The 1996 DePauw University graduate and his team have been earning accolades for improving customer service, but Stiver noted, "people are kind of catching the fire." The BMV chief says he tells his colleagues, "We're making progress, but we're not there yet."
Stiver delivered the Robert C. McDermond Lecture at the Memorial Student Union Building over the lunch hour. Since Governor Mitch Daniels appointed Stiver to lead the BMV in October 2006, customer visit times have been reduced from averages of 30 minutes two years ago to 9 minutes in 2008, and customer satisfaction ratings are now over 98%.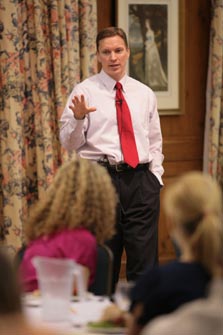 [Download Audio: "Keeping the Momentum" - 480kb] "Folks kind of think it appropriate to remind me that 2008's an election year," Stiver told the Management Fellows in attendance, "and supposedly we're supposed to consolidate our gains ... take our foot off the gas and just be nice and careful ... People want us to go into the prevent defense." A football player while at DePauw, Stiver noted that his coach, the now-retired Nick Mourouzis was in the audience for the McDermond Lecture. "But that's not what we're going to do and that's really not the way this governor works," the BMV chief asserted.
Stiver was working at Eli Lilly & Co. when Governor Daniels tapped him to serve on his transition team. He says he never intended to work in government, but answered the call when Daniels asked him to be commissioner of the Department of Workforce Development.

[Download Audio: "An Important Mission" - 151kb] "My heart will always be in workforce
development," Stiver said today. "If you look at the emergence of China and India, the single biggest predictor of economic success is human capital."
There was no predicting that more than three years later, Stiver would remain in state government. He calls that a valuable thing for students to consider, and urged each to "follow your heart" as they move along their individual career paths.

[Download Video: "Unpredictable Paths" - 516kb] "I can assure you, I did not grow up aspiring to be the commissioner of the BMV," he declared. "But it has been one of the most fulfilling experiences I've had," Stiver said, noting that while public perceptions of the bureau have improved, just as importantly, so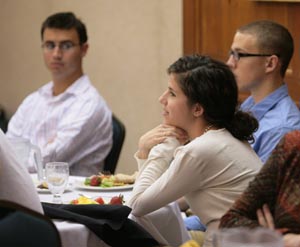 has internal morale as the agency has worked to improve the services it provides.
Talking as he paced the room and using no notes, Stiver also reflected upon his days as a student at DePauw, noting, "I value that experience more and more as time goes by." He added,

[Download Video: "Ron Stiver '96 on DePauw" - 522kb] "DePauw is where I started to love to learn ... I had these bright classmates, great professors who were committed, I'd be able to get office hours with them -- all those things, you don't get that at other places. And I really just wanted to start learning and understanding, whether it was game theory, whether it was Keynesian versus Friedman economics ... whether it was, you know, ethical theory and learning about Aristotle and Socrates ... all things."
It was on this campus that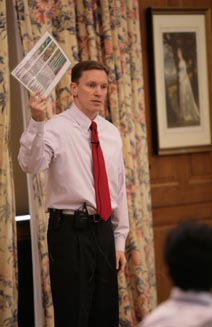 "my fire was lit," Stiver recalled. "And it really hasn't stopped." He added that a DePauw education "was a gift for me. I was inspired by a group of teachers and a football coach who gave a 190-pound center a chance."
Stiver believes the liberal arts graduates DePauw produces are "Better able to come up to speed quickly, "no matter what issue they're confronted with.

[Download Audio: "The DePauw Difference" - 249kb] "I have a heavy, heavy bias towards hiring good critical thinkers and people who are able to have a broader set of knowledge."
After graduating from DePauw, Ron Stiver earned a degree from Duke University's Fuqua School of Business.
Learn more about DePauw's Management Fellows Program, and the McDermond Honorary Lecture Series, by clicking here.
(photos by Alex Turco)
Back