Butler Signs Record-Setting Coach Brad Stevens '99 to Contract Extension
April 15, 2008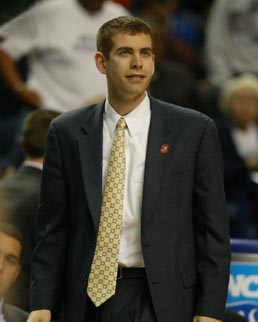 April 15, 2008, Greencastle, Ind. - "Butler coach Brad Stevens signed a seven-year contract extension Tuesday, keeping him with the Bulldogs at least through the 2014-15 basketball season," reports the Associated Press tonight. Stevens "played at nearby DePauw," adds the report on the 1999 graduate of the University. The 31-year-old, "one of the youngest coaches in Division I, led Butler to a school- and Horizon League-record 30-4 mark in his first year as head coach last season. The Bulldogs, ranked among the nation's Top 25 almost all season, lost to Tennessee in overtime in the second round of the NCAA tournament."
"We are extremely excited to reach this long-term agreement to have Brad continue to lead our program," says Butler athletic director Barry Collier. "Brad has demonstrated that he understands the Butler way."
Read the complete report at the Web site of Sports Illustrated.
Learn more about Brad Stevens, who was an economics major and Management Fellow at DePauw, in this previous story.
Back