DePauw Presents Inaugural Battey National Educator of the Year Award
April 22, 2008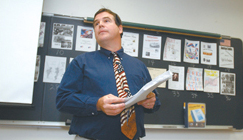 April 22, 2008, Greencastle, Ind. - Gregory Lewis, a social studies teacher at Indiana's Columbus East High School, is the inaugural recipient of the Battey National Educator of the Year Award. Administered by DePauw University's Honor Scholar Program, the Battey Award recognizes a teacher who inspired a current DePauw Honor Scholar while that student was attending a high school, middle school or elementary school. Lewis was nominated by Janelle Blasdel, a current DePauw senior (pictured below).
The Battey National Educator Award provides a $7,500 honorarium for Lewis and a $1,200 grant for Columbus East to be applied, with suggestions from the winner, to programs at the school.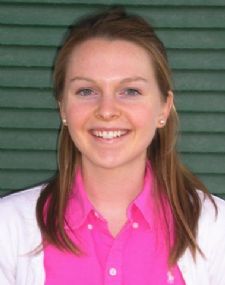 A gift by Charles and Joan (Westmen) Battey created the endowment which funds the new award. Mrs. Battey is a 1954 graduate of DePauw.
"Mr. Lewis' class was a wild ride -- one that I still wish I could be on," Blasdel stated in her nomination, in which she noted how Lewis would often assume the persona of a historical figure -- and encourage students to do the same -- to bring lessons to life.
"With my classmates, I marched in the Decade Parade down the halls of our school, costumed in a poodle skirt, shouldered by punk rockers from the nineties, flappers from the twenties, flower children, farmers from the Dust Bowl, stockyard workers from The Jungle, muckrakers like Jacob Riis," writes Blasdel. "On President's Day, I met William Taft, complete with a handlebar mustache that Mr. Lewis had been growing and grooming for weeks. In the fall, I was a slave on the Underground Railroad and by May, I'd attended a Great Gatsby party, enjoying conversation with Gatsby himself, Mr. Lewis."
The testimonial adds, "Mr. Lewis used every tactic he could to get us excited about learning. He incorporated music,
pop culture, and current events with the literature and history that he knew was so important. He showed me that an education should be fun -- something welcomed into everyone's life. I loved how he weaved together so many disciplines, so many themes and lessons, and showed me that they were all connected, that Billie Holiday's Strange Fruit came from a Jewish schoolteacher's poem, that came from a time of racism. From history came literature, from literature -- song, and from song -- a movement, a reaction."
Back