School of Music Presents 'Microfestival Two,' April 22-24
April 18, 2008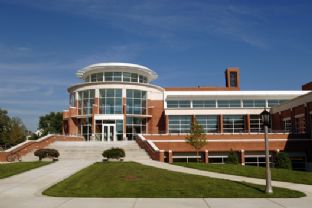 April 18, 2008, Greencastle, Ind. - The DePauw University School of Music will host "Microfestival Two," a series of five events which will take place over three days. The public is invited to attend the free presentations -- Tuesday through Thursday, April 22 - 24 -- in the Judson and Joyce Green Center for the Performing Arts.
"Microfestival Two" will bring together a wide variety of performers, including the DePauw Percussion Ensemble, directed by Amy Lynn Barber; the DePauw Improvised Chamber Music Ensemble; the DePauw Cello Ensemble; student group The United Workers Band; and the DePauw New Music Ensemble. The events will also feature guests Eric Edberg, cello; Randy Salman, clarinet; Harriet Moore, harp; Gigi Jennewein Fenlon; and the 2007-08 academic year's ensemble-in-residence, Grammy Award-winners eighth blackbird (pictured at right).
You're invited to enjoy the following events:
April 22: 7 p.m. concert, "The Passing of Time," Kresge Auditorium. A forum will follow the performance.
April 23: 7 p.m. concert, "As if it were spring," Kresge Auditorium; 9 p.m. concert, "The People United," Kresge Auditorium
April 24: 6 p.m. lecture/recital showcasing School of Music faculty, Thompson Recital Hall; 8 p.m. concert: "Toward the Sea," Thompson Recital Hall
The events will feature video art by Sala Wong and Peter Williams, as well as a wide variety of music including In C by Terry Riley, a piece that invites the entire audience to participate. Other works include pieces by student Rebecca Janvrin, professor Carlos Carrillo, and the 2008 Music of the 21st Century guest composer Chen Yi.
For more information about events, visit the DePauw School of Music online.
Back