Susan Furgeson '87 Encourages Young Scholars to Embrace Challenges
April 17, 2008
April 17, 2008, Greencastle, Ind. - "Always see challenges as opportunities to learn and grow," Susan Furgeson, executive director of the Blue River Community Foundation and 1987 graduate of DePauw University, told more than 175 of Shelby County, Indiana's top high school students. "When you fail, try to fail fast by not dwelling on it. Learn from it and move on to other challenges in your life."
On the subject of academic excellence, "the city's 'first lady' spoke from personal experience" reports the Shelbyville News of yesterday's event, which was presented by the Shelby County Association for Academic Achievement. "The former Susan Mann and wife of Mayor Scott Furgeson was a National Merit Scholarship winner when she graduated from Shelbyville High School in 1983. She went on to graduate magna cum laude from DePauw University and attended the George Washington University School of Law. She eventually returned home and went to work for a local law firm and became a successful businesswoman and community volunteer."
In her address, Furgeson also told the young scholars, "Shelby County is an exciting and wonderful place to live and raise your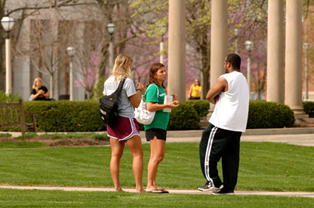 children, and I hope you decide in the future to come back here to stay. There are lots of opportunities to help our community. It's healthy for you and a wonderful thing for us."
Access the complete article at the News' Web site.
Learn more about Susan Furgeson in this previous story.
Back