Latest Presidential Debate Focused on "Old and Trivial," Prof. Ken Bode Tells New York Times
April 17, 2008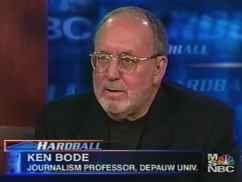 April 17, 2008, Greencastle, Ind. - When it comes to questioning presidential candidates in a debate setting, "I would say hit the issues first," Ken Bode tells the New York Times. Bode, Eugene S. Pulliam Distinguished Visiting Professor of Journalism at DePauw University, is quoted in a story which examines criticism that last night's Democratic debate on ABC, led by moderators Charles Gibson and George Stephanopoulos, did not offer enough substantive questions.
Jacques Steinberg writes, "Ken Bode, a former correspondent for NBC and CNN who moderated a Democratic primary debate in 1992 in South Dakota, said in an interview that Mr. Gibson and Mr. Stephanopoulos had erred by 'churning up the old and the trivial of the last six weeks' during the debate's extended opening."
Even Barack Obama took issue with the format,
stating, "We set a new record because it took us 45 minutes before we even started talking about a single issue that matters to the American people."
Read more at the Times' Web site.
In last Friday's Indianapolis Star, Professor Bode offered an analysis of what he deemed Hillary Rodham Clinton's "flawed judgment."
Bode is a 2005 inductee of the Indiana Journalism Hall of Fame.
Source: New York Times
Back