Six From DePauw Selected for Japan Exchange and Teaching Programme
April 30, 2008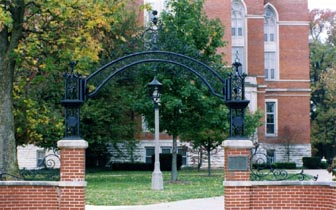 April 30, 2008, Greencastle, Ind. - Five current DePauw students and one 2007 graduate of the University have been accepted to participate in the Japan Exchange and Teaching (JET) Programme. Administered by the Japanese government, JET brings native English speakers into public schools and government offices to teach and translate. In 2007, JET welcomed 5,119 participants from 41 countries.
All six of the DePauw-affiliated applicants who received an interview for the JET program were accepted. They are:
Kelly M. Gagnon
Kim Ryan Harper
Jeremiah T. Lee
Lauren E. Li (2007 graduate)
Corinne McWilliams
Madison B. Murphy
The six will travel to Japan this summer for orientation sessions before heading to their respective communities and locations throughout the country.
"It's a tribute to our students and the programs we have at DePauw that we had six undergraduates accepted into this competitive program," says Hiroko M. Chiba, associate professor of modern languages (Japanese) and director of the Asian Studies program, who is DePauw's liaison with JET. "All of them are great students. Student interest in the JET program has dramatically increased this year, which I think is an indication that our students are looking for more global post-graduate opportunities."
Learn more about the JET program, which is aimed at promoting grass-roots international exchange between Japan and other nations, by clicking here.
DePauw University is again among the nation's top colleges and universities for the percentage of students who study abroad, according to Open Doors 2007, and one of the initiatives in the University's strategic plan calls for an increased focus on bringing more foreign students to Greencastle for their studies. This academic year, a total of 45 new undergraduates came to the University from 19 foreign countries, 31 as matriculants (versus 15 in 2006-07) and 14 as exchange students.
Back