New York Times Notes Gretchen Cryer's ('57) Role as Mentor
April 1, 2008
April 1, 2008, Greencastle, Ind. - "I especially appreciate the cheerleading," playwright Greg Keller tells the New York Times of his mentor, Gretchen Cryer. "I need some sort of inducting into 'Yes, you are a writer, you are accepted into the tribe.'" Cryer, a 1957 graduate of DePauw, is cited in a story on the Cherry Lane Theater's Mentor Project, which has been "matching up-and-coming writers with professionals since 1999."
Steven McElroy writes, "Since the program began at the Cherry Lane in Greenwich Village, 36 playwrights have taken part. Each gets a reading, a rewrite period with help from a mentor and a stipend of $5,000. Each play is also presented in the smaller of the Cherry Lane's theaters." Keller's contribution, The Young Left, will be staged this month.
Read the complete article at the Times' Web site.
Gretchen Cryer and her DePauw classmate Nancy Ford are award-winning Broadway collaborators. Their works include I'm Getting My Act Together and Taking It On the Road, which premiered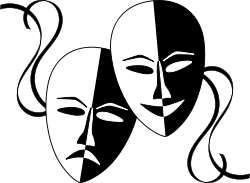 in 1978 and ran for three years. The hit musical was subsequently produced around the world and recorded in five languages. Their latest success is the musical adaptation of Anne of Green Gables. Between the two of them, Cryer and Ford have garnered numerous awards including a Grammy nomination, an Obie, a Drama Desk Award, an Outer Critics' Circle Award, two Emmys and four honorary doctorates.
In October, DePauw Theatre will present the premiere of a new musical by the duo, Einstein and the Roosevelts. Details can be found in this recent story.
Back