Pennsylvania a "Missed Opportunity" for Voters, Opines Prof. Ken Bode
April 25, 2008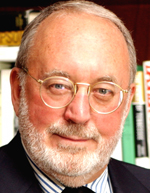 April 25, 2008, Greencastle, Ind. - "In one important sense, Pennsylvania was a missed opportunity," declares Ken Bode in the wake of Tuesday's primary in that state. In an op-ed published in today's Indianapolis Star, DePauw University's Eugene S. Pulliam Distinguished Visiting Professor of Journalism writes of the still-unsettled race for the Democratic presidential nomination and what he views as a contest that is straying from the issues.
"For six weeks, Keystone State voters had Obama and Clinton to themselves, an uninterrupted opportunity to insist that the candidates address the economy, gas prices, the mortgage crisis, health care, job loss, the wars in Iraq and Afghanistan, how to prevent terrorism, and protect civil liberties," Dr. Bode asserts. "Instead, what unfolded was a flood of trivia and negativity, inspired
in part by the ABC News debate where the moderators goaded the candidates into trashing each other."
The professor notes, "On the day after the victory that keeps her campaign alive, Clinton's hometown newspaper, the New York Times, laid a considerable part of the blame on her campaign themes and TV advertising. The Times editorial board, which earlier endorsed Hillary's presidential bid, singled out her late television ad that included images of the 1929 stock market crash, the Cuban missile crisis and Osama bin Laden. Said the Times, 'Mrs. Clinton became the first Democratic candidate to wave the bloody shirt of 9/11,' a tactic torn right from Karl Rove's playbook."
Bode, a former CNN and NBC correspondent, asks: "Is there any possibility that the candidates will use the next two weeks to get back onto an agenda of serious issues, leaving the flag pins and overall negativity behind at the Ohio border?"
As the 2008 campaign enters the home stretch, "What the Pennsylvania results demonstrate, once again, is that this year's Democratic voters are completely unable to make up their collective mind. Hillary wins a big one, then Obama runs off a string of small ones, then Hillary wins another big one." Bode
concludes, "Superdelegates were created for just this moment. That category of delegates exists to represent the collective wisdom, experience and judgment of the party. If the voters are deadlocked, superdelegates are supposed to step in and decide who has the ability to win. The results from Pennsylvania give those 300 still-undecided superdelegates reason to put off a decision for at least another two weeks."
Read the essay in its entirety at College News.org.
In his Star column last Friday, Ken Bode shared an e-mail from a soldier in Iraq. He also discussed the ABC presidential debate which he cited in today's op-ed in an April 17 New York Times report.
Source: Indianapolis Star
Back