Lee Hamilton '52 Joins Carbon Motors' Board of Advisors
April 29, 2008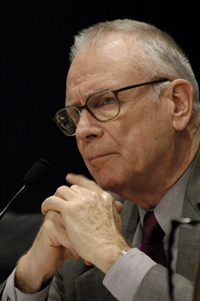 April 29, 2008, Greencastle, Ind. - Lee H. Hamilton, a veteran statesman and 1952 graduate of DePauw University, has joined the board of advisors of Carbon Motors Corporation. Hamilton is a retired member of Congress and co-chaired the Iraq Study Group and 9/11 Commission. The appointments of Hamilton and Tom Ridge -- who served as the first secretary of the U.S. Department of Homeland Security and was a two-term governor of Pennsylvania -- will "help guide the development of the world's first purpose-built vehicle for law enforcement," the company states.
"Led by former senior executives of Ford Motor Company, Carbon Motors is a new American automaker with a focused and singular mission: to design, develop, produce, distribute and service the Carbon E7, a vehicle designed specifically for law enforcement operations," notes an
announcement at Business Wire. (at right: Hamilton at DePauw's 1998 commencement ceremony)
William Santana Li, chairman and chief executive officer of Carbon Motors Corporation, says, "Our goal is to significantly improve the safety, efficiency and effectiveness of our law enforcement first responders by giving them the tools they have long needed -- and now, in a post-9/11 environment, need more than ever. Throughout the development process, we have sought to draw upon the expertise of active and retired law enforcement officers across the nation, and their advice has been critical to ensuring that the E7 meets the uniquely challenging needs of today's law enforcement officers. With the addition of Secretary Ridge and Congressman Hamilton to our Board of Advisors, Carbon Motors is fortunate to be able to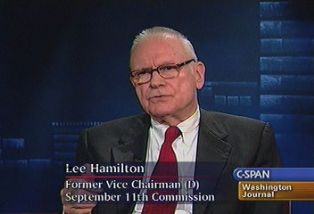 draw upon the experience and expertise of two of the nation's most respected authorities on homeland security," Li adds.
Read more by clicking here.
A November 2006 piece in the Chicago Tribune called Lee Hamilton one of America's "wise men ... a storied but shrinking club trusted for the soundness of their advice and judgment, not for the favor that can be returned."
Learn more about Hamilton in this recent story.
Back