After Teaching 50 Years at U of Oklahoma, Prof. Alex Kondonassis '52 to Retire
April 30, 2008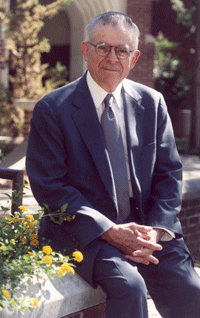 April 30, 2008, Greencastle, Ind. - "Alex J. Kondonassis didn't really want to retire, but decided it was time," begins a story in this morning's edition of Oklahoma's Norman Transcript. Dr. Kondonassis, a 1952 graduate of DePauw University, is David Ross Boyd and Regents Professor of Economics at the University of Oklahoma. "I can't teach forever, so now I've reached a round number -- 50," he tells the newspaper.
Julianna Parker writes, "Kondonassis grew up in Greece, but traveled to the U.S. after high school to attend DePauw University for his undergraduate education. He then earned his master's and doctorate degrees from Indiana University, and was hired to teach there. Then OU sent him a letter, offering him the senior position in his area of expertise -- economic development. He started at OU in 1958. 'When I first came I thought I would stay two or three years,' Kondonassis said."
The professor "still gets excited when he enters a classroom to teach," the text notes, and although he's officially retiring, he may still teach an occasional course at the university. "Teaching is in my veins after all these years, so I guess I will keep teaching every now and then," Kondonassis says. "It's something inside of you, either you love it or you don't -- I love it. When I go into the classroom and you look into
their faces and see their reception ... it makes you feel like maybe I am making an impact."
The text points out, "Kondonassis' area of study is economic development, specifically in less developed countries. The world itself has changed a lot in the last 50 years, and Kondonassis' lectures and discussions have, too. The U.S. began a period of economic development after World War II that began with the Marshall Plan and continues today with aid to developing countries, Kondonassis said. Economic stability is a major concern for Americans and their leaders, he said. The key to stability, though, is fighting poverty, he said."
Read the lengthy feature -- "Teaching half a century -- in its entirety at the Transcript's Web site.
In 2005, Oklahoma officials declared May 17 "Dr. Alex J. Kondonassis Day." Learn more in this previous story.
Back