DePauw and Putnam County Prepare for 2008 Relay For Life
April 30, 2008
Also: Putnam County Relay For Life Web Site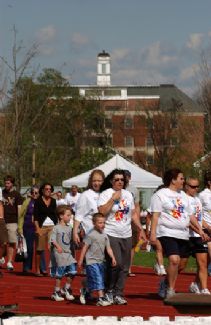 April 30, 2008, Greencastle, Ind. - This weekend, DePauw University students, faculty and staff will join forces with members of the Putnam County community to raise funds for the fight against cancer. With three days remaining before 2008 Putnam County Relay For Life begins, 165 teams and 1,383 individuals are signed up to participate and already more than $30,500 has been collected.
The 24-hour fundraiser for the American Cancer Society begins at noon on Saturday, May 3, at DePauw's Blackstock Stadium. The 2008 theme is "Celebrate. Remember. Fight Back."
"Relay for Life allows me to contribute back to the community, as well as gives me the support to be strong for both of my grandparents [who are] dying of cancer," says DePauw junior Meagan Brady, who serves on the event's steering committee. "I love to see the community come together as one to help eliminate cancer for everyone," she tells The DePauw.
The DePauw-hosted Relay has won several awards for being among the best of its kind among American colleges and universities. The fundraiser was first held in 1996 and raised nearly $15,000. The total grew to approximately $30,000 by 1999 and $42,000 in 2000. Then, 2001 brought in $80,000; followed by $127,000 in 2002;
more than $162,000 in 2003; 2004's $208,735; and a 2005 total of more than $230,000. The 2006 and 2007 Relays each raised approximately $220,000 for the cancer fight.
At this online page you can learn more about the 2008 Relay, register for the event and make a donation. You may send an e-mail to relayforlife@depauw.edu.
Also available is a short video clip of the 2007 Putnam County Relay For Life:

[Download Video: "A Look at the 2007 Relay" - 4610kb]
Back