April Brings 373K Unique Visitors and 22 Million 'Hits' to This Site
May 1, 2008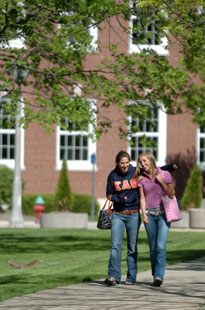 May 1, 2008, Greencastle, Ind. - This Web site logged more than 22 million hits from 373,000 unique visitors during April, with nearly 6 million page views. Overall traffic to DePauw.edu increased approximately 10% from April 2007, and the site now gets as much traffic in one day as it did over the course of an entire month eight years ago.
"We averaged 736,289 hits per day last month," notes Ken Owen '82, executive director of media relations, who, along with sports information director Bill Wagner, creates the news and athletic updates on the site. "To put that in perspective, in all of April 2000 this site received a total of 1.3 million hits. Unique visitors -- a key metric because each computer is counted just once per month -- have increased twelve-fold over that time period."
The DePauw University community includes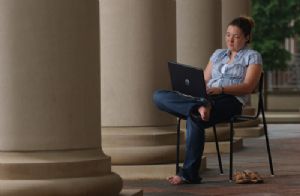 about 37,000 individuals (alumni, current students, faculty, staff and parents). With 373,020 unique visitors in April, nine in ten visitors to this site were individuals who have no connection to the University and were drawn to the site by a search engine or to procure admission information.
The largest driver of traffic to DePauw.edu continues to be news content. A total of 204 stories were posted in April (117 in the news section, 87 in athletics). Among the most-read new entries were Professor Scott Wilkerson's analysis of the April 18 earthquake; summaries of the Board of Trustees meeting and the Timothy H. and Sharon Ubben Society of Teacher-Scholars and Faculty Recognition Dinner; news that three students received Barry M. Goldwater Scholarships; the April 15 visit by Ron Stiver '96 (pictured at left), commissioner of the Indiana Bureau of Motor Vehicles; the launch of the alumni "Not Without You" campaign; Cindy Babington's promotion to vice president for student services; an "InfoTubey Award" won by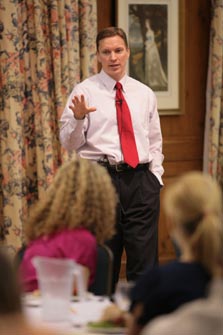 DePauw librarians; a newspaper notation of the indirect link between the movie Leatherheads and DePauw; and actor Jeremy Piven's visit in support of Sen. Barack Obama.
November 2007, aided by a thrilling Monon Bell Classic, remains the all-time high month for hits (24,183,802) and page views (6,786,020). March 2007 still holds the top mark for unique visitors (393,159) and visits (1,293,553).
Other popular destinations included the campus calendar and the pages devoted to libraries, class schedules and admission.
The average visitor spent 17 minutes and 40 seconds, per visit, at this Web site. At least 5.13% of the traffic came from foreign countries, the top ten being: Australia, Canada, Mexico, United Kingdom, Netherlands, China, France, Germany, Sweden, Brazil, Spain, Italy, Poland, Uruguay and Singapore.
| | | | | |
| --- | --- | --- | --- | --- |
| | Hits | Unique Visitors | Visits | Page Views |
| April 2008 | 22,088,680 | 373,020 | 1,262,030 | 5,949,977 |
| April 2007 | 21,637,770 | 330,915 | 1,239,730 | 4,616,572 |
| April 2006 | 19,406,743 | 201,422 | 1,030,065 | 5,233,723 |
| April 2005 | 12,964,237 | 162,614 | 742,046 | 3,414,106 |
| April 2004 | 8,725,249 | 156,237 | 515,419 | 2,203,356 |
| April 2003 | 8,198,885 | 77,454 | 395,947 | 1,746,722 |
| April 2002 | 7,244,285 | 75,914 | 334,430 | 1,257,651 |
| April 2001 | 3,810,529 | 31,364 | 190,959 | 981,438 |
("hits" is a count of all the successful hits including HTML pages, pictures, forms, scripts and files downloaded; unique visitors counts each user once per month; visits counts every time a user visits the site)
Back