Baseball Mourns the Passing of "True Pioneer" Buzzie Bavasi '38
May 1, 2008
May 1, 2008, Greencastle, Ind. - "The Dodgers, and the baseball world, lost a true pioneer today," says Los Angeles Dodgers owner Frank McCourt of Emil J. "Buzzie" Bavasi, who passed away in San Diego. Bavasi, described by the New York Times as "the general manager of the Dodgers during their glory years in Brooklyn and their first decade in Los Angeles, and a baseball executive for nearly a half-century," graduated from DePauw University in 1938. He was 93 years old.
"Buzzie is a key reason the Dodgers first earned the reputation of being an agent for social change," adds Jamie McCourt, president of the Dodgers. As the Times' Richard Goldstein notes, "(Bavasi) championed the acceptance of black players in organized baseball, helped take major league baseball to California, put together an expansion team in San Diego and saw power shift from management to the players with the arrival of free agency. In his 18 years with the Dodgers,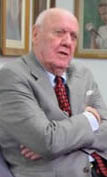 from 1951 to 1968, Bavasi's clubs won eight National League pennants and four World Series championships."
"All of baseball today mourns the passing of one of its giants, Buzzie Bavasi," Commissioner Bud Selig said. "Buzzie was one of the game's greatest front-office executives during a period that spanned parts of six different decades. He loved the game and he loved talking about it. Buzzie was a wonderful friend. He always gave me good advice and had an excellent perspective on the issues of the day. I will miss our long and frequent correspondence. My sympathies go out to his family and friends."
The article points out, "He started out in baseball in 1939 when the National League president, Ford Frick ['15], whose son had roomed with Bavasi at DePauw University, recommended him for an office boy's job with the Dodgers, then being run by Larry MacPhail.
Soon, Bavasi was involved in his first deal -- or non-deal, as it turned out. Bavasi, who had been a catcher of no great distinction for DePauw, was in a scouting meeting in which a right-handed pitcher for Purdue, whom he once played against, had been mentioned as a good prospect. 'That night I got out my scrapbook,' Bavasi recalled in Off the Record (Contemporary Books, 1987), written with John Strege. 'I looked up the box score of that Purdue game. DePauw had won and I had gotten three hits. So I took the box score into the office the next day. Larry MacPhail was prepared to pay this pitcher a bonus of $1,500. When he read the box score, he tore the contract up. Larry turned to me and said, 'If you can get three hits off him, we don't want him.' '"
The text details how Bavasi wound up working for the Dodgers' minor league system, with a break for service in the Army during which he earned the Bronze Star. In late 1950, he was named general manager of the Brooklyn Dodgers, and was the Sporting News' "Major League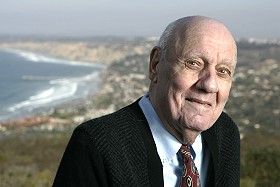 Executive of the Year" in 1959. Bavasi joined the expansion San Diego Padres in 1968 as president and part-owner, then became executive vice president of the California Angels in 1977. He retired in 1984.
Read articles at the New York Times' Web site, the Los Angeles Times, San Diego Union-Tribune and MLB.com.
Learn more about Buzzie Bavasi -- who was inducted into the Breitbard Hall of Fame last year and the DePauw Athletic Hall of Fame in 1989 -- in this previous story. Bavasi recalled his days playing baseball at DePauw in this 1982 article.
Back